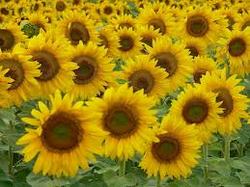 PR Newswire | 27.02.2013

CHS and Adecoagro form sunflower joint venture in Argentina
ST. PAUL, Minn., Feb. 27, 2013 /PRNewswire/ -- CHS Inc. (NASDAQ: CHSCP), a leading farmer-owned energy, grains and foods company today announced that it has formed CHS AGRO, a sunflower marketing joint venture with Adecoagro (NYSE: AGRO).
Located in Pehuajo, in the heart of sunflower country about 350 km from the Buenos Aires port, CHS AGRO will grow and process sunflower kernel and in-shell products for global marketing and distribution by CHS. Each company will hold 50 percent ownership in CHS AGRO.
"Global food companies in Europe, the Middle East and the Pacific Rim look to CHS to deliver superior quality sunflowers for consumer food, baking and snack markets," said Jim Krogh , president of CHS Sunflower, Grandin, N.D. "CHS AGRO will provide CHS with additional sunflower origination to further grow the business, while adding value to member-owners' crops."
"Our partner, Adecoagro, is focused on further developing its agricultural production footprint," said Ignacio Bosch , general manager, CHS de Argentina. "CHS and Adecoagro have a similar culture that will create numerous business opportunities. It's a good fit."
Founded in 2002, Adecoagro is a leading South American agricultural company. Adecoagro owns more than 283,000 hectares of farmland and several industrial facilities within the most productive regions of Argentina, Brazil and Uruguay. It produces more than 1 million tons of agricultural products, including: corn, wheat, soybeans, rice, dairy products, sugar, ethanol and electricity, among others.
CHS Inc. (www.chsinc.com) is a leading global agribusiness owned by farmers, ranchers and cooperatives across the United States. Diversified in energy, grains and foods, CHS is committed to helping its customers, farmer-owners and other stakeholders grow their businesses through its domestic and global operations. CHS, a Fortune 100 company, supplies energy, crop nutrients, grain marketing services, livestock feed, food and food ingredients, along with business solutions including insurance, financial and risk management services. The company operates petroleum refineries/pipelines and manufactures, markets and distributes Cenex® brand refined fuels, lubricants, propane and renewable energy products.
SOURCE CHS Inc. http://www.chsinc.com">
http://www.chsinc.com