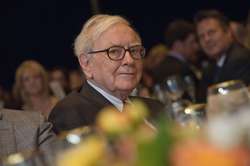 In 2011, Buffett indicated that ADM "is the kind of company we look at," when providing examples of companies Berkshire may find attractive as potential investment and/or outright acquisition targets.
Seeking Alpha | Feb 22 2013
Berkshire Finally Takes A Stake In Archer Daniels Midland
Last week, Warren Buffett's Berkshire Hathaway (BRK.A) (BRK.B) disclosed it had initiated a position in Archer Daniels Midland (ADM) during the fourth quarter of 2012. ADM had a poor 2012, largely due to the draught that caused corn and other commodity prices to spike in the second and third quarters (ADM is the world's largest corn processor), but it reported strong Q4 results and increased its dividend this quarter, which has helped it appreciate over 17 percent since the start of 2013.
Berkshire's disclosure of its approximately one percent stake in the company also certainly participated in ADM's recent share strength. See a
recent performance chart for ADM
.
This investment is an especially interesting one because in 2011, Warren Buffett indicated that ADM "is the kind of company we look at," when providing examples of companies Berkshire may find attractive as potential investment and/or outright acquisition targets. Beyond noting the company is attractive, Berkshire has other connections to ADM, including that Howard Buffett, Warren's son, worked for ADM from 1992 until 1995, as a director and head of investor relations.
Berkshire's recently disclosed investment, which totaled 5,956,600 shares of the agricultural powerhouse, worth about $163 million at the end of 2012, is a relatively minor one to Berkshire, representing about one-fifth of one percent of the holding company's U.S. publicly traded equity positions. Still, nothing indicates the position cannot grow, or that it hasn't already grown.
The position is small enough that it actually appears unlikely it was made directly by Warren Buffett, and was probably instead initiated by either Todd Combs or Ted Weschler. Both men are reasonably well known and respected investors that Buffett handpicked in 2011 as investment managers. Buffett selected them because they both utilize value oriented long-term investment strategies that are relatively similar to his own. Moreover, these men are both likely well aware that Buffett specifically called out ADM as a company of interest.
At the start of February, ADM reported earnings for its fiscal second quarter, or calendar Q4 of 2012. The company's profit and revenue came in above average Wall Street estimates, and noted record operational capacity within its U.S. soybean operations. The company's earnings per share, excluding inventory gains and other items, came in at $0.60 for the holiday quarter, beating most Wall Street estimates by about two cents. Revenue was also reasonably strong, coming in at about $24.9 billion, which is almost seven percent better than the same quarter a year earlier, and about $2 billion better than expectations.
ADM has been increasing its grinding and production of refined soybean products, such as soy-meal and oil, in response to growing global demand for the food products. Demand growth has been robust in both the U.S. and Asia, and increased commodity prices have prompted processors to push through product price increases. Soybean prices increased by about 75 percent last year, largely due to corn price increases that caused a spike in demand for cheaper soy-based food product alternatives.
Some of ADM's recent performance strength was also based on its agricultural services business, where operating profit increased 32 percent to $317 million. This included a $62 million gain from ADM's stake in Graincorp, an Australian grain handler for which ADM made a hostile bid last quarter. ADM generates most of its sales domestically and has the majority of its assets in the U.S., but the company has made strides towards expanding internationally. Though ADM indicated that it would not proceed with an attempted acquisition of Graincorp, it did increase its stake in the company to 19.9 percent. It is also likely that ADM's cessation of its pursuit of Graincorp contributed to its recent share appreciation.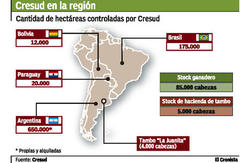 Cresud and Adecoagro may become prime takeover targets
ADM may end up pursuing other acquisitions. It has been anticipated that large agricultural companies like ADM and its peers such as Bunge (BG) will seek out targeted acquisitions of global farmland in order to both expand and diversify operations. It is possible that these industries will look for such farmland in South America, where agricultural companies such as Cresud Sociedad (CRESY) and Adecoagro (AGRO) may become prime takeover targets. Nonetheless, many potential buyers may remain wary of expanding into South America due to concerns over political uncertainty and instability, including possible socialized nationalization of assets.
Along with reporting quarterly results, ADM also commented that it would resume its share buyback program. The following day, ADM increased the company's quarterly dividend to $0.19 per share, which is an increase of 1.5 cents or 8.6 percent. Its shareholders, including Berkshire, will also appreciate these factors. Many of Buffett's largest holdings are consistent dividend growers and ADM shares that trait with them. All of this indicates Berkshire's stake in ADM will likely increase in 2013.