Reuters | 27 Fenruary 2013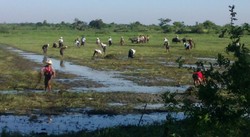 Orchard Agriculture and Animal Husbandry Co appears to be a subsidiary of
U Pai
, which is owned by the Union of Myanmar Economic Holdings Limited (UMEHL), a company owned and controlled by Burma's military. UMEHL is a main conduit for foreign investment in Burma and, since 1999, it has set up
50 joint ventures
with foreign firms.
By Aung Hla Tun
A policeman died and 42 people were injured in Myanmar on Wednesday during a protest by farmers over what they said was a land grab by a private company, a growing source of tension as people assert their rights after the end of military rule.
Twenty-seven police were among the injured on the sixth day of demonstrations in Maletto Village Tracts, around 40 miles (64 km) west of Yangon in the fertile Irrawaddy Delta, the rice bowl of Myanmar.
The authorities had imposed a curfew in the area when the protesters become aggressive on Tuesday but it had been ignored, a police officer said.
"They just kept demanding immediate handover of the land to them and started to attack the policemen with sticks, daggers and slingshots with darts," he said.
According to the officer, police fired warning shots and rubber bullets. The land, which includes fish ponds, belongs to Orchard Agriculture and Animal Husbandry Co.
"About 1,000 acres of land had been confiscated about 10 years ago without anything being done to it. Nothing is grown and no fish are kept there," said Win Cho, an activist.
Police officials could not give any information about the disputed land and company officials were not immediately available for comment.
Last year, farmers' protests against land laws, part of Myanmar's reform process under a quasi-civilian government, were conducted peacefully. The divisive bills allow state reclamation in the "national interest".
Such land grabs have taken their toll on rural communities and many rural poor are joining the swelling ranks of Myanmar's "landless".
The authorities also employed heavy-handed measures last year against protesters at the Monywa copper mine in the northwest which planned a $1 billion expansion after what opponents termed the unlawful confiscation of 7,800 acres (3,160 hectares) of land.