Reuters | 18 February 2013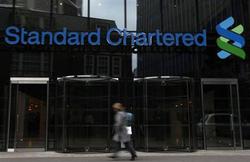 A woman walks past a Standard Chartered bank in London October 13, 2010. (Photo: REUTERS/Stefan Wermuth)
By Tosin Sulaiman
(Reuters) - Standard Chartered's (STAN.L) private equity arm is looking for more deals in Zimbabwe, a senior executive told Reuters on Monday, betting on a rise in consumer spending after years of hyperinflation.
The British bank, whose private equity business has assets under management of about $4.5 billion, made an investment in Zimbabwean agri-business Ariston Holdings through one of its portfolio companies, Afrifresh Group, last year.
The transaction was worth around $20 million. Ariston was previously listed on the Zimbabwe Stock Exchange.
Despite concerns about political risk ahead of general elections later this year, the bank sees potential for high returns in a country that is "starved for growth capital" after being weakened by hyperinflation, said Peter Baird, Standard Chartered's head of private equity for Africa.
"Standard Chartered Bank loves Zimbabwe and our appetite for equity risk in Zimbabwe is high," he said, listing real estate, consumer goods and retail as the most attractive sectors.
Zimbabwe's long-serving president Robert Mugabe, who formed a power-sharing government with rival Morgan Tsvangirai after a disputed 2008 vote, has set March 16 as the date for a referendum on a proposed new constitution.
A general election is expected later in the year.
Baird acknowledged there could be risks attached to the election, but said so far Standard Chartered's dealings with the government, for example over Ariston, had been relatively smooth.
"They were very reasonable about the indigenisation plan (to increase local ownership of businesses) that we filed ... they were very reasonable about the perception of commercial agriculture being in foreign hands," he said.
The private equity team also wants to be an early mover in a country that boasts a well-educated, English-speaking population, as well as a functioning banking system and capital markets, Baird added.
"Given the right policy framework and the right set of circumstances Zimbabwe will do just great," he said.
Standard Chartered Private Equity has invested around $550 million in Africa since 2008, with about half last year alone.
It was also a co-investor with Carlyle Group LP (CG.O) and South African private equity fund Pembani Remgro Infrastructure Fund in pan-African agribusiness Export Trading Group, a deal announced in November.
Baird was less bullish about the private equity team's investment prospects for Africa as a whole in 2013 given the difficulty of finding companies of the right size and the reluctance of some family-owned businesses to sell equity.
(Reporting by Tosin Sulaiman; Editing by Helen Massy-Beresford)