Agrimoney.com | 13 February 2013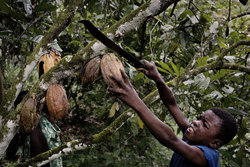 Agriterra revealed headway in its long-held desire to expand into cocoa production, acquiring 1,750 hectares of plantations, and forecasting further purchases with a windfall from a sale of oil interests.
The Africa-based corn-to-beef operator, chaired by former England cricketer Phil Edmonds, said it had signed on a 50-year lease, with a 21-year extension option, on a site in Sierra Leone centred around a plantation run by Beresfords until the country's civil war, which ran from 1991-2002.
Agriterra has already hired 160 workers to develop the site, which Andrew Groves, the group's chief executive, said was "in a highly productive and suitable area for cocoa production", and grows some coffee too.
And the group revealed it was in talks to acquire a further 2,000 of plantation land, some adjacent to the existing site, over which it hoped to complete negotiations "in the near-term".
'Additional acquisitions'
The acquisition follows Agriterra's purchase in 2011 of Tropical Farms, a Sierra Leone-based cocoa trader, a deal which the company said would herald expansion into cocoa production and processing.
"With this acquisition and investment, we are now entering the second phase of our growth strategy focussed on developing our own plantations," Mr Groves said.
The expansion is being bankrolled by the sale of Ethiopian oil interests which Agriterra attempted to develop in its former guise of White Nile.
"We have an extremely strong treasury, having received an initial $28m from the sale of our legacy oil asset, and I look forward to completing additional acquisitions of land and building shareholder value further," Mr Groves said.
Market reaction
Agriterra said it had acquired 250,000 cocoa seedlings, sufficient to plant 200 hectares "that is in the process of being cleared", on top of 56 hectares already in cultivation.
Peat & Co analyst Andy Cuthill estimated that "it will take three or four years for newly-planted cocoa trees to achieve commercial yields and hence generate profits".
However, the start of Agriterra's move into cocoa production "does enable us to underline the value that this business will create for the group over the lifetime of the plantations", valuing the cocoa overall cocoa business at $26.2m in 2014.
"This accounts for about 1.5p of our total target price of 7.5p for the group," Mr Cuthill said.
Agriterra shares, which are listed in London, closed down 2.8% at 3.28p.