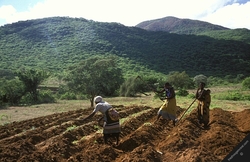 The Citizen | Monday, 11 February 2013
Lobby wants land grabbers stopped
By Suleiman Jongo, The Citizen Reporter
Dar es Salaam. A programme manager with ActionAid, Mr Bernard Baha, has called on Tanzanians to unite in stopping greedy foreign investors from grabbing poor farmers and livestock keepers' land.
Speaking during the commemoration of the World Land Day in the city at the weekend, Mr Baha, whose NGO deals with governance, rights, health and education issues, said that most land conflicts reported in the country were linked to allocation of land, especially to foreign investors.
"We are not against land investments, but the land should not be given out to foreigners. Citizens should reserve the right to access it," he said.
Land grabbing is of grave concern in many African countries and it has caused fatal conflicts among citizens and investors. In Tanzania, the problem is now posing a big challenge due to increased interest by foreign agricultural investors.
For example, in 2008 it was reported that investors were interested in producing biomass on land measuring between 30,000 and 2,000,000 acres, according to data compiled by ActionAid.
To commemorate the World Land Day celebrated on February 7 every year, and to sensitise people on the ills of land grabbing, ActionAid planted placards depicting that public places such as Coco beach at Oysterbay area in the city and the Uhuru monument at the Mnazi Mmoja part had been sold.
"The sale is symbolic. These areas are not sold. We just want to raise public awareness on the problem, although many other public or open spaces are sold day in day out," said Mr Baha. The placards caused some confusion to some people who did not know the message wasn't real.
Ms Mwanahamis Salim, an official from Oxfam Tanzania, which hosted the event, said that land investments were very crucial for the country's development, but cautioned that it would distract prevailing peace stability if not handled cautiously.
"Since land is the key factor for human development. It's now crucial that Tanzanians to own land rather than giving it out to investors," she said.
Globally, in the first ten years of this century over 200 million hectares of land has been reported to be subject to land deals, including more that 6 million hectares in Tanzania.
These deals are too often resulting in farmers and pastoralists losing land and ending up in poverty.