AFP and DVB | 11 February 2013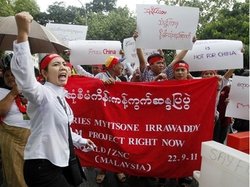 A crowd in Malaysia protests the construction of the Myitsone dam in Burma's Kachin state. (Reuters)
Burma has become the "latest flashpoint in an alarming trend" of global land grabs, which continue to wreak havoc on economic development and human rights around the world, two new reports have warned.
Two reports released last week warned that investors in land and resources in emerging economies, including Burma, risk financial and public relations disasters if local inhabitants feel they are getting ripped off.
"Rarely have local communities — and ultimately their national governments — prospered through this development model," said Lou Munden from the Munden Project. "It's even more astounding given that investors often fail to prosper as well. This model proved unsustainable in 2012, nowhere more apparent than in Liberia. And now the conflict in Kachin shows that Myanmar [Burma] could be the next country to fail with this approach."
As Burma slowly emerges from five decades of military rule, international companies have been lining up to invest in the country's vast natural resources, which include precious stones, oil, natural gas and timber. Last week, the government formally clarified the country's new foreign direct investment law for the extractive industries, which will allow foreign firms to hold 100% stakes in oil and gas projects and removes the minimum capital investments previously required. The government is also in the process of liberalising its mining laws.
But most of Burma's resources are found in its volatile border regions, plagued by decades of civil war with ethnic minority rebels fighting for greater autonomy and rights. Despite inking tentative ceasefire deals with most armed group, the central government has stepped up its assault against Kachin rebels in northern Burma, where over 90,000 people have been displaced since June 2011.
"The conflict in the north of Myanmar, like so many around the world, has its roots in land and resource rights — including community forest rights," said Maung Maung Than, project coordinator for The Center for People and Forests. "The leadership of previous governments guiding Myanmar started a race to sell off our natural resources, and our livelihoods have become collateral damage in the process. As our country opens up to the outside world, we need to stay focused on reducing poverty, not increasing it."
For Andy White, the coordinator of Rights and Resources Initiative (RRI) in Washington, "the mining sector is the most exposed because it needs a lot of investments." He told AFP: "The mining sector is a ticking time bomb all across Africa and now in Myanmar."
RRI said that "the pace of deforestation in [Burma] has raced forward unabated." Dense forest cover, for example, has declined precipitously, from 45.6 percent of the land in 1990 to just 19.9 percent in 2010, warned the group.
Meanwhile, the Munden Project highlighted the economic risks for companies investing in unstable regions. "When we looked at companies involved in international land acquisitions, we found that they experience an astonishing amount of financial damage," said founder Lou Munden.
This ranged from "massively increased operating costs, as much as 29 times above a normal baseline scenario, to outright abandonment of functional operations when they ignore pre-existing or customary local land rights." Munden emphasised that the financial risks were many and varied from delays in construction timetables to the expropriation of assets "following the loss of insurance coverage."
He commented that "even more troubling, the escalation of risk can be extremely rapid", and that conventional techniques for managing risk were inadequate for coping with insecure local land tenure.
President Thein Sein famously suspended the Chinese-backed Myitsone hydropower dam in Kachin state in September 2011, after a massive backlash from civil society groups over its environmental and social impacts. The China Power Investment Corporation (CPI), which ran the project, subsequently claimed to have suffered "immeasurable" financial losses.