TODAY'S ZAMAN | 7 February 2013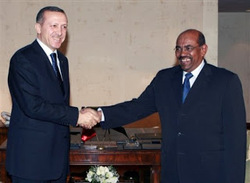 Turkish PM Erdogan shaking hands with Sudanese president Bashir, during his Jan. 2008 visit to Ankara. (Photo AP)
The Ministry of Food and Animal Husbandry is preparing to cultivate several large tracts of land it purchased in Sudan last year, telling media outlets on Thursday that it would open the tracts to private producers in 2013.
In May of last year, the ministry reportedly purchased 5,000 square kilometers of farmland in the country's fertile south, where it secured land rights for the next 99 years.
The purchase comes as the widely corrupt African nation recovers from a decades-long civil war that ravaged the country and saw one of its former southern territories win its independence.
After the purchase, the Turkish General Directorate of Agricultural Enterprises (TİGEM) headed a four-month-long program to prepare the fields for a selection of crops that include cotton and a variety of nuts and fruits. Turkey is a net importer of many of those crops, the ministry said, reporting that the private Turkish growers who will farm the land will import the products duty free. "Because the price of labor and irrigation is very low [in Sudan]," this will help bring cheap fruit to Turkey, a Food Ministry spokesperson reportedly told one Turkish newspaper.
The program comes as Chinese investors also increase their holdings in Sudan, purchasing arable land as well as significant stakes in the country's oil reserves. The program also follows the logic of the Food Ministry and TİGEM's other recent decisions to open up land to private investment. In 2010, the ministries privatized fields in Sakarya, Çanakkale, Muş and Iğdır, resulting in an estimated $1 billion in investment by private firms seeking to use the land.