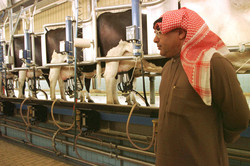 The general manager oversees the cows at a large Saudi Arabian dairy farm. Almarai Co., the biggest food producer in the Persian Gulf, processed about 235 million gallons of milk in 2012. Photographer: John Moore/AP Photo
Bloomberg News | January 14, 2013
Hidden Billionaire Milking Saudi Dairy Fortune in Desert
By Devon Pendleton
At a sprawling complex in the Saudi desert, 60 miles north of Riyadh, dozens of black and white Holstein cows amble from their sandy surroundings into air- conditioned milking halls. Inside, they take their places on a motorized, rotating corral and are milked by machines while munching on shredded alfalfa and being misted with water.
The herd is one of hundreds owned by Almarai Co. (ALMARAI), the biggest food producer in the Persian Gulf, which processed about 235 million gallons of milk in 2012. The Riyadh-based company's revenue has almost tripled in the past five years to 7.95 billion riyals ($2.12 billion) as demand for its products -- milk, cheese, processed chicken, baked goods and juices -- has surged with the nation's population. Its shares are up 125 percent since its 2005 initial public offering.
The gain has made Prince Sultan bin Mohammed bin Saud Al Kabeer, Almarai's 59-year-old founder and largest individual shareholder, a billionaire. His 28.6 percent stake in the operation, plus other investments, has helped him amass a fortune of at least $2.8 billion, according to the Bloomberg Billionaires Index. He has never appeared on an international wealth ranking.
"Establishing a dairy farm in the middle of the desert is not that easy," said Alaa Ghanem, a senior equity analyst at Audi Saradar Investment Bank in a phone interview from his office in Beirut. Almarai, he said, "is an example for anyone who wants to succeed."
Stud Farm
Retail sales have increased throughout the Middle East as rulers boost spending to ensure their populations get a bigger share of state energy wealth. Saudi's King Abdullah declared $130 billion of extra spending in February and March of 2011 in response to popular movements that ousted leaders from Tunisia to Yemen. According to data from the Saudi Arabian Monetary Agency, consumer spending reached an all-time high of 176.9 billion riyals last May.
Al Kabeer is a descendant of Saud Al Kabeer, a cousin of King Abdulaziz, the first Saudi monarch. His family line is considered one of the most senior and influential branches of the royal family, according to Sharaf Sabri, author of the 2001 book "The House of Saud in Commerce: A Study of Royal Entrepreneurship in Saudi Arabia."
In addition to his stake in Almarai, which is valued at more than $2 billion, Al Kabeer owns 14.3 percent of Arabian Shield (SHIELD), a Saudi insurance firm, and a 7.8 percent stake in Yamamah Saudi Cement Company (YACCO), Saudi stock exchange filings show. Based on an analysis of dividends, insider transactions and market performance, he probably has a portfolio of investable assets worth at least $500 million, according to the Bloomberg ranking.
Undisclosed Assets
Al Kabeer may also control undisclosed assets. He is the chairman of five companies and one of the founders of 15 others, including Bahrain's Arcapita Bank and Sharjah, United Arab Emirates-based Dana Gas PJSC, according to his corporate biography. He also owns a stud farm outside Riyadh, where he has about 100 thoroughbred racehorses in training, according to his profile on the website for the Breeders' Cup, one of the world's most influential horse racing events.
"The Al Kabeer are one of the premium merchant families affiliated with the Al Saud," said Theodore Karasik, director of research at the Institute for Near East and Gulf Military Analysis in Dubai, in a Jan. 8 e-mail describing their relationship to the royal family. "As such, they receive special perks for business investments."
Reverse Boycotts
Those perks could include preferential access to business ventures or handouts in the form of land or money, he said. Hussam Abdul Qader, a spokesman for Almarai in Riyadh, did not respond to e-mails and phone messages requesting comment.
In 1977, Al Kabeer founded Almarai -- whose name derives from the Arabic word for pasture -- with Masstock Group Holdings, an Irish farming-systems company owned by two brothers, Paddy and Alistair McGuckian. The company was created amid soaring oil prices, leading the Saudi government to fear the possibility of reverse boycotts by farming superpowers such as the U.S. and Europe, according to Nada Amin, an analyst at investment bank EFG-Hermes in Cairo.
"Almarai was established as part of a general movement in Saudi Arabia during the 1970s to achieve food security through self-sufficiency," said Amin in an e-mail on Jan. 8. "Since then it's flourished, transforming from a local fresh dairy producer to a diversified regional giant."
Joint Venture
Masstock sold the last of its stake in Almarai to Saudi shareholders in 2004, a year before the company listed its shares on the Saudi stock exchange. Almarai controls 44 percent of the dairy market in the Gulf region, according to Riyadh- based investment bank NCB Capital. Since 2007, it's spent more than $3 billion adding new business lines, such as infant formula and baked goods.
In 2009, Almarai formed a joint venture with PepsiCo Inc. (PEP) to invest in dairy and juice makers in southeast Asia, Africa and Middle Eastern countries outside of the Gulf. In 2011, 98.8 percent of Almarai's revenues came from Saudi Arabia and the other five Gulf nations, according to data compiled by Bloomberg.
Argentine Alfalfa
The company's main competitive advantage, according to NCB, lies in its four desert dairy farms, which house more than 60,000 cows. The farms include feeding areas that shelter the animals from heat that can exceed 120 degrees Fahrenheit in the summer.
The desert climate has turned out to be a benefit for Gulf state dairy farmers. Almarai cows each produce about 12,400 liters of milk per year, which the company says is double the European average. Cows at the Al Ain Dairy Farm, the largest dairy company in the United Arab Emirates and an Almarai competitor, produce more than 10,000 liters of milk per year, according to a video about the company posted on YouTube in March 2010.
The reason for the extra output: desert cows are force fed.
"Where I come from in Ireland, typical yields would be 5,000 liters a year, but their production system is based on pastoral grazing," said Patrick O'Dwyer, an Al-Ain representative in the video. In the desert, "we bring the feed into the cows every day. There is no grass for the cows to eat."
Much of Almarai's feedstock comes from South America. In 2011, it bought Argentine farm operator Fondomonte SA for 312 million riyal. Today, the company ships alfalfa and other feed staples 7,900 miles from Argentina to support its cattle.
Profit Margin
Almarai's ownership of dairies, two processing plants and a distribution system comprised of 1,000 vehicles, makes it more profitable than its local and global peers. The operation's earnings before interest and taxes margin is at least 30 percent bigger than Paris-based Danone SA (BN), Switzerland's Nestle SA (NESN) and Jeddah-based Savola AB (SAVOLA), which is also Almarai's largest institutional shareholder.
"The chairman and the board play a very significant role in determining the strategic direction of the company," said Asjad Yahya, vice president of research at Shuaa Capital in Dubai in an e-mail on Jan. 10. Al Kabeer, he said, "is an important source of direction for the company."
The Bloomberg Billionaires Index takes measure of the world's wealthiest people based on market and economic changes and Bloomberg News reporting. Each net worth figure is updated every business day at 5:30 p.m. in New York. The valuations are listed in U.S. dollars.
To contact the reporter on this story: Devon Pendleton in New York at [email protected]

To contact the editor responsible for this story: Matthew G. Miller at [email protected]