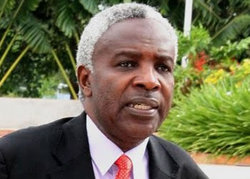 Chiza assured Tanzanians that "Land grabbing is not our policy."
Tanzania Daily News (Dar es Salaam) | 15 January 2013
Agribusiness Crucial for Sustainable Development
In a bid to develop agricultural sector, the government through Tanzania Investment Centre (TIC) in collaboration with the Prime Minister's Office and the Southern Agriculture Corridor of Tanzania (SAGCOT) Centre recently organized a two day conference under the theme 'Accelerating Tanzania's Agribusiness Investment' in Dar es Salaam.
Our Correspondent who attended the meeting sheds light on what transpired... The fact that agriculture directly supports the livelihoods of more than 80 per cent of Tanzanians, speaks volume of its importance to the country's development.
This fact also explains why various, public and private; local and international organizations engage themselves in making sure that this sector thrives. And this is the reason why Tanzania Investment Centre (TIC) in collaboration with the Prime Minister's Office and the Southern Agriculture Corridor of Tanzania (SAGCOT) Centre recently organized a two day conference under the theme 'Accelerating Tanzania's Agribusiness Investment' that was held in Dar es Salaam.
The conference aimed at not only showcasing Tanzania's agriculture investment potentials to both local and foreign investors but also attracting them to invest in a win-win situation. The event was also meant to harness the potential for investment in agriculture, trade and socio-economic development in the SAGCOT region with a view to introducing prospective investors through tailor made targeted investment promotion and physical visits.
During the conference, the government of Tanzania reiterated her commitment to consolidate and deepen partnership with the private sector and other stakeholders to revolutionalise agriculture sector to ensure that food security and prosperity is achieved.
"The partnership that already exist between the government, the private sector, development partners, farmers and other agricultural stakeholders has enabled good progress in improving agricultural performance," the Prime Minister, Mizengo Pinda who opened the meeting said.
The Premier thanked the 20 firms that have already committed to invest in agriculture in Tanzania in the coming years and at the same time called upon more commitment of the private sector to invest in the sector, taking into account that the total value addition chain in Tanzania is underdeveloped.
He said that at the end of the day, all investments within the SAGCOT area should be evaluated on the basis of their linkages to smallholder farmers.
"It may even be correct to require that only those projects with an explicit role for smallholders and local SMEs be attracted," he said. He emphasized that even in policy recommendations, the benefits to smallholders and the local population must always be of paramount as well as in devising new processes for land leasing and takeoff agreements for SAGCOT projects.
He said in recognition of this emphasis, the government has decided to refer to the Investment Generation Programme as the Investment Partnership Programme to clarify to all potential investors and other stakeholders on the need to attract not simply investors, but companies whose explicit aim is to partner with local smallholder farmers and SMEs.
Investors were assured by the Premier that Tanzania offers a well-balanced and competitive package of fiscal and non fiscal incentives in comparison with other African countries through various investment legislations. "Investing in Tanzania also guarantees you access to various markets in the region," he said, adding that the country enjoys access to various markets under different preferential trade agreements.
He noted that investors in Tanzania are guaranteed against nationalization and any form of expropriation. "Tanzania is a signatory of several multilateral as well as bilateral investment agreements on protection and promotion of foreign investment," he said.
In his presentation, the Minister for Agriculture, Food security and Cooperatives, Eng. Christopher Chiza mentioned some targeted sectors for investment in SAGCOT as cereals, oil seeds, sugar, vegetables, fruits, nuts and spices. Others are cotton, tobacco, floriculture, forest products, poultry, and agricultural inputs such as seeds and fertilizer.
He said that several institutes ensure robust skill supply for paddy and sugarcane production and processing at all levels and mentioned Sokoine University of Agriculture as one of key supplier. "The institutional and regulatory framework is in place to ensure access to critical inputs," he said in presence of more than 70 foreign prospective investors and over 40 local companies. Participants from outside the country came from Asia, Europe and Far East.
Also, when addressing a group of villagers from Kidunda, Mkurazi and Usungura in Kisarawe, Coast Region where he accompanied a group of investors who went to see the 63,000 hectares of land designated by the government for rice and sugarcane farming in Gwata area, he assured Tanzanians that land belonging to villagers will never be taken from them and offered to investors.
The visit was part of a programme of the first ever Agribusiness Investment Showcase Event. "Land grabbing is not our policy," he told villagers who turned up during the visit, adding that the government was in the right track to enhance development of the people and that it adheres to proper land use for the interest of the nation.
Some human rights activists and institutions claim that tens of thousands of people in some African countries were being driven off fertile ancestral lands so that the governments could leas
e or sell large tracts of farmland for commercial agriculture to investors, including foreign governments. The Minister emphasized that large scale farming will not replace small holder farmers in Tanzania and that the government was very keen on that.
He said that instead, big investors will work with small holder farmers in a contract farming arrangement where villagers surrounding plantations will also be engaged and contribute a certain percentage of their produce to investors.
The Minister said that villagers were poised to benefit from new knowledge and infrastructure development that will come with huge agricultural projects and assured them that the government will always monitor if those investors, both local and foreign, will be operating according to agreements. Speaking after the Agriculture Minister, the Ward Executive Officer for Mafizi, Mr.
Ali Kiseto welcomed the idea and said villagers were banking on their government for development. He called on the Minister to organise more sensitizations programmes to villagers where plantations will be allocated in efforts to reduce future conflicts. This will also help to address any doubts they might have and know how they will benefit once the projects commences.
One of the prospective investors, Mr. Anil Lodha from Dubai, United Arab Emirates said that he was overwhelmed by the kind of reception and treatment they got from the government. "Tanzania has shown seriousness...we are very grateful," he said, adding that the two day conference has definitely opened up huge opportunities Tanzania has for prospective investors.
Another prospective investor, Mr. Cas Human from Intabazwa Farming in South Africa said SAGCOT is about living Julius Nyerere's dream who saw agriculture as a backbone of the country's economy and development.
He said he believe that commercial agriculture is very important for development and that it has greatly helped his country transform her economy. "It is fantastic to be here in Tanzania...there are lots of possibilities," Mr. Human noted.