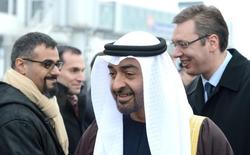 Sheikh Mohammed bin Zayed Al Nahyan (Tanjug)
B92, Večernje novosti | January 10, 2013
UAE crown prince announces numerous investments
BELGRADE -- Crown Prince of the United Arab Emirates (UAE) Sheikh Mohammed bin Zayed Al Nahyan is planning large investments in Serbia.
According to announcements, he will invest at least EUR 200mn in agriculture.
The UAE crown prince met with top Serbian officials in Belgrade.
His visit to Serbia is a return visit. Serbian Defense Minister Aleksandar Vučić and Finance and Economy Minister Mlađan Dinkić visited Abu Dhabi three months ago.
Agreements reached in Abu Dhabi were concretized during Al Nahyan's three-day visit.
It is certain that Al Dahra company, owned by Al Nahyan, will become a majority owner of eight Serbian agriculture corporations that own around 9,000 hectares of land. The state of Serbia will remain a minority co-owner.
It is planned that the UAE company will lease 14,000 hectares of arable land for EUR 250 for one hectare on the annual level. The Abu Dhabi partner is obligated to invest additional EUR 100mn in equipment and irrigation systems.
It has been agreed that the Abu Dhabi Development Fund will give Serbia a donation or a soft loan that should be used for cleaning up and construction of a complete irrigation and drainage system network using the Danube-Tisa-Danube Canal throughout Vojvodina and along the Danube and Velika Morava Rivers in central Serbia.
The other half of the money will be used for long-term loans for farmers intended for the purchase of new equipment, primarily the drop-by-drop irrigation systems.
The sheikh is planning on investing around EUR 150mn in development of new military technologies, primarily in NORA and ATLAS rocket systems and in export of Serbian ammunition and weapons.
The UAE partners, i.e. the crown prince's brother Sheikh Tahnoon, are also planning on opening a bank in Serbia. Its founder would be one of the largest banks in the Arab world, the First Gulf Bank.
Negotiations that should result in the opening of a new semiconductor and chip factory are also underway. The company which is interested in opening the plant in Serbia, Mubadala, already has such factories in Singapore and the state of New York.
The most important factor for the realization of the project is whether Serbia can provide 1,500 to 2,000 engineers for the job. According to daily Večernje novosti, the project will be worth around USD 8bn.
Bearing in mind that Abu Dhabi companies are currently performing maintenance of their planes in Switzerland, they are very interested in transferring to Belgrade and buying Jat tehnika plane maintenance company. They are also interested in Serbia's national airline Jat Airways.
The UAE crown prince was welcomed by First Deputy Prime Minister Aleksandar Vučić and other officials at Belgrade's Nikola Tesla Airport on Wednesday.
The UAE has the fastest growing economy in the world. It is expected that the country's economic growth in 2013 will be 3.2 percent, just like last year.
Al Nahyan is also a deputy supreme commander of armed forces and Abu Dhabi Executive Council chairman.