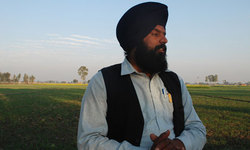 Dulwinder Singh, headman of Manochahal, Punjab, does not recommend joining the exodus to Georgia. Photograph: Jason Burke for the Guardian
The Guardian | 7 Jan 2013

Punjabi farmers find pastures new (and cheap) in Georgia
High land prices are forcing Indians to till the more welcoming soils of the Caucasus
Jason Burke
in Manochahal
The sun dips, the cattle low as they are driven back to the farms and a telephone rings with a Bollywood soundtrack tone. Tujinder Singh is calling the
sarpanch
– the elected head – of Manochahal, his native village 30 miles from India's western border.
The conversation – about crops, prices, weather and mendacious middlemen – is like a million or so similar early-evening calls placed by farmers across south Asia. Except that the land that Singh is now tilling is in Georgia, the small mountain nation in the Caucasus.
Singh, 38, is one of a new wave of farmers pioneering one of the world's more unlikely migrations. During a recent spell as a cook in Düsseldorf, Germany, he heard about thousands of acres of fertile land on former collective farms lying fallow in Georgia for want of manpower.
The contrast with his native Punjab, with its surging population and high land prices, was striking. So two months ago, he and three friends flew from Amritsar to Tbilisi, the Georgian capital, to seal a deal for the lease of 50 hectares. Back for a short break and some tandoori chicken, Singh said he was very happy with the move, even if he remains slightly vague about the geography of his new home.
"We are paying $950 [£580] for each hectare for a 99-year lease. You'd not get much for that in the Punjab. I'm not sure if the farm is in the north or south but it is sort of over by Turkey and Armenia," he said.
Singh and his associates are far from alone. A growing number of Punjabi farmers are heading for Georgia. Agents in major towns such as Jalandhar are advertising Georgian land deals and business is brisk.
"It started a while back, just a dozen or so. Maybe now it is hundreds. Once words spreads there will be many. They come to me for passports. They are looking for pastures new," said JS Sodhi, the bureaucrat who issues travel documents in Amritsar, the nearest major city to Manochahal.
The farmers of the Punjab, known as the grain basket of India, have long searched overseas for new land. An earlier wave of migrants went to Canada, where urbanisation meant thousands of farms were empty. More recently, Punjabi farmers have been buying or renting thousands of hectares in Ukraine, Uzbekistan and across eastern and central Africa.
"Punjabi people are always going to different countries. They are very adventurous and enterprising," said Sodhi.
The money the farmers make overseas is often sent back to buy land at home, contributing to the rise in prices that forced them to leave in the first place. Georgian officials in India say the new arrivals may be disappointed.
"We are not encouraging them. They are going on their own. There are some private people in Georgia selling land. We have no programme for this," said one last week.
It is illegal for a foreigner to directly own land in the country and, though it is relatively cheap, it is less abundant than often reported, a second official pointed out. A recent project to attract farmers from overseas, particularly white South Africans, was a failure.
But attempts to dampen enthusiasm seem unlikely to have much immediate effect. "There's a huge hunger for land and it's said to be very good land over there, fertile and well irrigated," said Gokul Patnaik, a Delhi-based specialist on global agriculture. "It's mechanised farming but the Punjab is the one area of India where tractors are widely used so that won't be too much of a problem."
Nor is the cultural gulf separating the Caucasus and western India an obstacle. "I like the food and the people are very friendly," said Singh, though he admitted that not speaking Georgian in a country where few speak Punjabi was "a challenge".
Some in the Punjab fear an exodus from the villages and the end of a centuries-old way of life. Dulwinder Singh, the village head of Manochahal, says he does not think large numbers of young farmers will follow his neighbour to Georgia, however.
"Over there you work the land, you invest in it, you sweat over it, but it is yours just for 99 years. Then what?" he asked, as he sipped tea with four neighbours outside his farmhouse. "My land here was worked by my father, my father's father, his father and as far back as anyone can remember. What can replace that?"