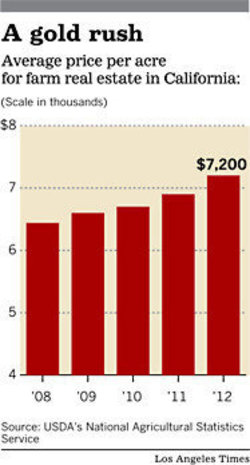 Los Angeles Times | December 26, 2012
Farmland in demand
Investors snap up California acreage, pushing prices to record highs, as global appetites for almonds and pistachios increase.
By Catherine Green
In the last year, Prudential Financial Inc. has plowed money into lemons and avocados in Ventura County, almonds and mandarins in the Central Valley and strawberries in Santa Cruz County.
The insurance giant is just one of many players, including highly specialized investors and large pension funds, that have snapped up California farmland recently.
The buying spree has helped push farm and ranch land values to record highs, raising questions about how long the boom might last and what effect it might have on the state's important agricultural sector.
A new class of investors is piling into the sector, said Frank Plessmann of Agriworld Fund Inc., a hedge fund based in Greenville, Miss.
When he started putting together a plan to raise capital to finance farmland purchases a decade ago, he said, "there was no one to speak with about it, but now there are all these agricultural investment groups."
The average cost of an acre of farm real estate in California rose to $7,200 this year, roughly $300 above last year's record, according to the U.S. Department of Agriculture.
Some of the highest-priced land is in the almond-growing region of San Joaquin Valley's Tulare County, where an acre can fetch $15,000 to $19,000. Just two years ago, the price was in the $13,000-to-$16,000 range, according to surveys by the American Society of Farm Managers and Rural Appraisers' California chapter.
The surge has as much to do with shifts in the global economy as with local agriculture.
A burgeoning middle class in China has increased the appetite for almonds and pistachios, driving up prices for those crops — and the farmland that produces them.
At the same time, investors have become frustrated with paltry returns from the stock market and low yields on government and corporate bonds, driving them to look for new places to park their money. The effect has been felt beyond California, with cropland prices in the Midwest also on the rise.
Craig Wichner, a managing partner in Farmland LP, which buys up land that can be used for sustainable agriculture, said his clients are "looking for an alternative to investing in the market." Investors in his fund, he said, include a multibillion-dollar wealth management firm, old money and veterans of the tech sector.
Prudential has been buying farmland on behalf of family offices, endowments and pension funds.
"Farmland is lower risk and probably higher returning than commercial real estate, timberland, bond funds and equity funds," said Charles Allison, head of Prudential's agriculture investment portfolio.
Still, investing in farmland is not without risk. Prices in many areas of the state dipped during recent drought years. A rise in interest rates could draw capital away from farmland and into other investments. And there is no guarantee that commodity prices, which undergird agricultural land values, will continue to rise.
"I know of no one who projects farmland prices, other than hucksters who are trying to sell you some," said Dan Sumner, a professor and director of the Agricultural Issues Center at UC Davis. "They then only say farmland prices are sure to rise always and forever. But if that were true, why are they selling?"
Rising land prices can make life tricky for farmers.
Some changes are positive. As more outsiders buy up land and lease it for agriculture, farmers can use their own money to invest in equipment and technology that can produce bigger harvests.
"The more capital that enters from outside agriculture, the more farmer-owned capital can be used for operations and perhaps for diversification of farmer wealth," Sumner said. "Of course, anyone hoping to buy land would wish other potential buyers were not in the market."
In previous years, dairymen would buy surrounding land to grow their own corn for feed. Because of the pressure from rising prices, "they can't do it anymore," said Charlie Pitigliano, a grower and land manager in Tulare County.
Competition from big outside investors for farmland has sparked unease among some growers.
Ryan Jacobsen, executive director for the Fresno County Farm Bureau and co-owner of his family's J&L Vineyards in Easton, said he saw a clear difference between these investors and his fellow local growers: "They just don't have the same connection with the community."
Tom Barcellos, president of Western United Dairymen, said outside firms can tack on an additional $3,000 to $4,000 an acre. Although high values seem attractive, he said, there's "a definite concern from farmers" that it could all come crashing down — much like it did during the land market's boom and bust in the early 1980s.
Fresno broker Ron Silva, whose real estate firm specializes in farmland, had a front-row seat for that crash.
"Starting in 1978-79, we had investors coming in and buying up grape land for $15,000 to $16,000 an acre. We all got caught up in it," Silva recalled. "These investment bankers in 1980 were saying by the end of five years, it'd be $20,000."
Before it could hit that level, though, the market began to sputter. Silva blamed a drop-off in consumer demand for raisins, one of the state's top commodities, and hesitation from struggling banks to approve agriculture loans.
"By the last quarter of '84," he said, "the best quality land in San Joaquin Valley was going for around $4,500 an acre."
Dairyman Brian Pacheco, who recently was board president for the Fresno County Farm Bureau, didn't sound optimistic that this current crop of investors would stick around.
"When things turn, they'll be the first ones out — just like in the '80s," Pacheco said. "Things will plummet again."
One of the factors propping up land values is the booming export market for California crops, particularly in China. As of 2010, California was the nation's top agricultural producer and exporter, shipping out 24% of total production to the tune of $14.7 billion. The state's exports rose 125% in the 11-year period beginning in 2000.
Factors such as a slowdown in the Chinese economy could dent demand for crops such as almonds and pistachios.
"The question is this," Fresno County grower Dan Errotabere said: "Will commodities stay at the level needed to service those prices?"