Olam | 28 November 2012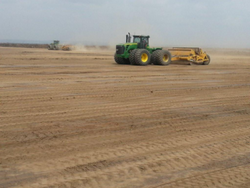 Nasarawa Rice Farm, November 22, 2012. Olam says that over the last two years, it has conducted extensive testing of hybrid rice seeds through SGAT (Singapore Agri Tech) and of local varieties through the Africa Rice Centre (WARDA).
(Below is an extract of pp. 33-35. Download the full rebuttal
here
)
Nasarawa Rice Farm
MW CLAIM 1: "Rice farm in a remote, difficult to access section of Nasarawa State"
The farm is located in middle belt of Nigeria which serves as the food bowl of Nigeria. It is 36 km from Makurdi city, capital of Benue State, with a population of 500,000 and 60 km from the largest grain market, Doma , in Nasarawa state. Both places are accessible by roads that are in reasonable condition.
MW CLAIM 2: "We question the wisdom of such large investments in a region that experiences an intense rainy season, chronic flooding, and suffers from an underdeveloped system of infrastructure"
Fadama land is a lowland basin and a widely used source of crop production. Up to 70% of Nigerian crops are grown in lowlands and are not impacted by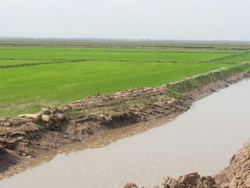 Nasarawa Rice Farm, November 27, 2012 (Photo: Olam)
frequent floods. Agronomy at the chosen site has been proven with 500 ha of wheat cultivated in this farm in the past. Further, the site also features a dyke protection system. In the last 4 years we have been operating model farms at the site and have not faced any flood event till this current event. The polder protection system around the cultivated areas is built to withstand upto 70.3msl of flood level (a level which was reached first time in this site's history in 2012).
This year's flood has been declared as a 1 in 40 year event (source: NASA) and a 1 in in 100 year event in Nigerian media and is not reflective of normal flood probability over the project life.
Olam has explicitly stated that the main incremental risk of pursing upstream investments is weather. That is one risk factor that cannot be mitigated by management action. It is precisely for this reason that we have not concentrated our upstream investments in any one crop or region. For example, we are pursuing rice farming across both Nigeria and Mozambique, almonds across Australia and the US, coffee across Laos, Ethiopia, Tanzania and Zambia etc. The incremental weather risk, we believe, is more than compensated by the significantly higher return potential which means that even on a risk-adjusted basis, it is financially rewarding to allocate some part of our investment dollars to selective upstream investments. In line with our diversification and risk mitigation strategy, we have further announced that a maximum of 10% of our balance sheet will be invested in upstream farming by FY2016.
Current status on the ground is that the flood waters have receded and we have replanted 400 hectares with planting of an additional 600 hectares planned to be completed during December 2012 / January 2013.
MW CLAIM 3: "We believe it is extremely unlikely Olam can achieve the targeted production levels"
Most countries with a bimodal rainfall pattern and a precipitation level below 1500 mm annually have demonstrated 2 crops per year. In our farm we have just planted the second crop under irrigated condition over 400 Ha. This confirms the feasibility of 2 crops per year at the site and also reflects the minimal damage to the farm infrastructure during the recent floods.
Over the last two years, Olam has conducted extensive testing hybrid seeds through SGAT (Singapore Agri Tech) who have extensive experience in Asia on seed development with high yielding and hybrid varieties, and local varieties through Africa Rice Centre (WARDA) which have yielded 5-6 tons per hectare. This information is also stated in the CGIAR Africa report.
Financial impact of the flood
Olam had planted an area of 400ha and the crop was around 40 days old when it was impacted by the flood. The financial impact has been approximately US300K. More importantly, there has been minimal damage to the infrastructure and we were able to repair the same within 5 days of the water level receding. As on date, the area has already been planted with the second crop.
References
http://www.africarice.org/publications/StrategicPlan/AfricaRice_Strategic_Plan_2011-2020.pdf&nbsp
;
http://earthobservatory.nasa.gov/IOTD/view.php?id=79404&nbsp
;
http://www.businessdayonline.com/NG/index.php/analysis/commentary/46134-the-great-nigerian
-
2012-flood-pt-2