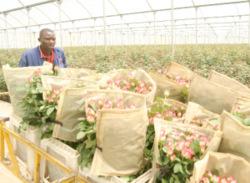 A worker at a Naivasha flower farm prepares roses for export.
The Star | 5 December 2012
BY LYDIA MATATA
Over 3,000 workers from Karuturi flower farm in Naivasha have downed their tools to protest non-payment of their salaries and poor working conditions.
Kenya Plantations and Agricultural Union (KPAWU) branch secretary Ferdinand Juma said that the workers would not return to work until their salaries were paid. The workers had earlier camped along the Moi South lake road while union officials engaged the management.
Close to 1,000 workers of Shalimar Flower Farm also in Naivasha flower went on strike over poor working conditions and meager wages in September.
--
Karuturi Global Q2 Results Reveals a Deeper Slide
StockExplain | 16 November 2012
By Ram NN, Assistant Editor
Karuturi Global Ltd (BSE: 531687, NSE: KGL) has announced its latest quarterly results in BSE & NSE, on Thursday. The consolidated results for the second quarter of this fiscal, was published during trading hours, and shows continuing erosion in its core operations.
Consolidated sales at the floriculture major is down by 7.01% to Rs. 124.36 crore, from Rs. 133.73 crore recorded in the corresponding year-ago period.
Consolidated net profit of Karuturi Global dipped by 5.45% to Rs. 16.82 crore, from Rs. 17.79 crore achieved in Q2 of FY'12.
But these headline numbers mask a much sharper underlying erosion of profit at this Africa-based cut-rose producer and exporter.
This is because, Karuturi's net profit in Q2 of last fiscal was impacted by an extraordinary loss of Rs. 14.37 crore due to flood damages in its relatively newer Ethiopian agricultural venture. If that extraordinary loss is removed, the profits for that year-ago quarter would have been Rs. 32.16 crore.
Calculating from such a base – which was in fact the real net profit from its core floriculture operations – the net profit of this fiscal's Q2 has plunged by 47.70%.
On a sequential or quarter-on-quarter basis, Karuturi has fared slightly better, with consolidated sales rising by a modest 1.33% and net profit rising by 8.15%.
However, this QoQ uptick is largely on relatively low bases formed in Q1 of this fiscal, and as such, not very impressive.
Karuturi Global's EBITDA margin for Q2 stands at 26.45%, down sharply from 30.81% achieved in the corresponding period last year, but stands improved on a QoQ basis from 23.88% recorded in Q1 of this fiscal.
The sequential improvement in EBITDA margin is largely due to sharp sequential cuts in 'Employee Benefits Expense' and 'Other Expenses', and not due to topline expansion which was contained at just 1.33%.
While 'Employee Benefits Expense' dipped by 34.36%, 'Other Expenses' shrunk by 45.70%. Though the company has not disclosed details of these significant cuts in expenses, news reports coming from Kenya in early November reveal that Karuturi's flower farm in Naivasha has recently sacked 906 seasonal workers out of its 3300 seasonal workers, citing hard financial times and a poor market.
The year-on-year fall in net profit is despite sharp containment in 'Depreciation & Amortisation Expenses' and 'Tax Expenses'. While Depreciation & Amortisation went down by 61.96% YoY, Tax was down by 29.22%.
These advantages were more than offset by an unexpected 964% surge in 'Finance Costs'. From an year-ago figure of Rs. 1.14 crore, Finance Costs surged 10.64 times to clock Rs. 12.16 crore. Karuturi Global has explained this as due to interest costs being charged off to P&L due to its agricultural venture in Ethiopia getting operational.
Though the company has provided guidance that corresponding income from the agri venture will be reflected in Q3 upon completion of harvest, it is not clear whether this kind – or even higher kind - of 'Finance Costs' will continue hitting the quarterly results, as this is basically interest costs.
Karuturi Global is evidently struggling to run its new agricultural venture off its core floriculture business which is also facing headwinds.
Rating agency ICRA in a recent 'Credit Prespective' report on Karuturi Global has tried to pinpoint the nature of this struggle:
"Against planned capex of USD 209 million (~Rs 1150 crore) for cereal production in 80,000 hectare land, as per ICRA estimate the company has already incurred a capex of almost Rs 1000 crore."
Despite this, Karuturi has been able to cultivate only in a modest 5000 hectares in the June-September wet season, which is expected to be its first successful harvest. Earlier, in the last dry season of November-February, it could only cultivate in 2000 hectares, the yield of which was said to have gone for seed purposes.
ICRA further notes about the moderation in Karuturi's further agricultural plans despite the huge capex already incurred:
"In the next dry season (Nov'12-Feb'13) the company plans to plant in 3,000 hectares, which would be followed by almost 15,000-20,000 hectare of cultivation in the following wet season (June-Sep'13). In case of palm plantation, as compared to the company's earlier plan of planting almost 2500-4000 hectares each year, the company has decided to put on hold any further expansion and focus completely on cereals."
In this Credit Perspective report, ICRA analysts also note that "Adequate return on the significant capital investments done by the company is not expected in near to medium term." The report also downgraded the rating assigned to Rs 50 crore Term Loan and Rs 22.5 crore Fund Based Limits of Karuturi Global Limited from [ICRA]BB+ to [ICRA]B+.
Apart from all its operational woes, Karuturi Global is expected to face a significant credit squeeze, as it recently defaulted on an FCCB redemption worth Rs. 332.5 crore.
Compared to the FCCB repayment of Rs. 332.5 crore, Karuturi Global's consolidated annual profit run rate is now only Rs. 155.85 crore, which means the FCCB repayment is worth more than two years net profit as of now.
According to Sai Ramakrishna Karuturi, CMD of Karuturi Global, the ongoing maize harvest is expected to add only $12 million or Rs. 63.6 crore to the bottomline in Q3.
In an earlier Equity Grading Report by ICRA, which was commissioned by Karuturi during the end of Q2, some additional risks were cited, that includes a sharp jump in contingent liabilities to Rs. 156 crore due to tax claims by India and transfer pricing claims by Kenya, as well as the possibility of further equity dilution and significant delay in getting adequate return on capital.