SDI | 3 December 2012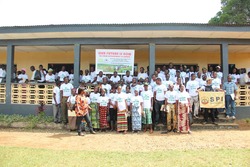 "We as citizens of Gbarpolu, Grand Cape Mount, Bomi, and Sinoe counties have been ignored throughout the allocation process of large scale agricultural concessions and feel unfairly treated with how oil palm concessions have developed in our counties," reads the declaration from the gathering in Bopolu City.
(December 3, 2012, Monrovia, Liberia) Over 150 community representatives from four counties in Liberia gathered in Bopolu City, Gbarpolu County on November 27th – 29th, 2012 to discuss their experiences and concerns regarding the impact of oil palm plantations on their livelihoods and communities. Participants traveled from across the country to attend the three-day conference, which ended with the formal signing and adoption of a
"Statement and Declaration by Affected Community members from Sime Darby and Golden Veroleum Concessions."
In recent years, the Liberian government has signed land deals – known as "concessions" – in the oil palm sector that cover huge portions of arable land where tens of thousands of rural subsistence farmers currently reside. Two contracts alone, those of Malaysian Sime Darby and Indonesian Golden Veroleum – owned by a member of the Sinar Mas Group, grant lease periods of over sixty years for over one and a half million acres of land. Despite the dramatic impacts that implementation of these contracts will have on rural communities, their consent was never solicited prior to the contracts being signed.
James Beyan, resident of Bokomu District in Gbarpolu County, said, "When it comes to palm oil companies in Liberia, we were never informed. We were given no education or information. We were not empowered so that we could give our own input."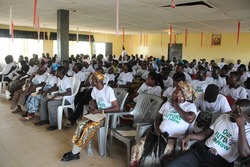 Organized by Liberian civil society activists, the conference provided community representatives the opportunity to openly discuss the operations of oil palm companies, examine the contracts, and develop strategies to ensure that their rights are respected in plantation development. International experts on agriculture, community rights, and palm oil traveled from West Africa, Pacific Asia, South America and Europe to attend the conference, along with representatives from national civil society organizations and farmer's unions in Liberia.
The final declaration was adopted and signed by all delegates at the close of the conference, and covers issues related to consent, land rights, environmental damage, and employment. "The contracts are not transparent, with unrealistic terms and conditions, and do not respect our rights to Free, Prior, and Informed Consent," the declaration says, adding, "As owners of the land, we should have been involved in the negotiations with oil palm companies before the contracts were signed." The document represents an important step towards rural Liberian communities securing respect for their rights in the implementation of oil palm concessions.
The Sustainable Development Institute (SDI), Save My Future Foundation (SAMFU), and Social Entrepreneurs for Sustainable Development (SESDev), urge the Liberian government, oil palm concessionaires, and the international community to carefully consider the declaration and ensure that its provisions are immediately implemented.
"As the declaration says, there are serious issues with the way the contracts were written and some of the provisions contained inside them. It is about time that the Government of Liberia admits this and reforms the concession agreements to reflect Liberia's human rights obligations and ensure the rights of local communities are respected," said Jonathan Yiah, Coordinator of the Sustainable Development Institute.
For more information, contact James Otto, Community Programs Officer for the SDI at +231 (0) 886 921660 or
[email protected]
or Robert Nyahn, Program Officer at SAMFU at +231 (0) 886 561955.