MALOA | 1 December 2012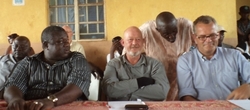 SOCFIN officials on a visit to the company's operations in Malen, Sierra Leone. The people of Malen say they have been harrassed, arrested and charged while trying to protest against what they say is SOCFIN's forceful taking of their lands and its destruction of their local food and cash crops. SOCFIN is a Luxembourg-based subsisdiary of the Bolloré Group of France.
Community members defy intimidation and arrests and appeal for international support in their struggle to stop SOCFIN from operating on lands the company acquired without their consent.
Letter of the Malen Affected Land Owners Association to the Chairman of the Human Rights Commission of Sierra Leone, 1 December 2012
Signed resolutions of the Malen Chiefdom landholding families, 1 December 2012
MALOA letter and resolution