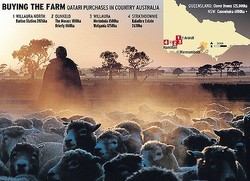 Wall Street Journal | Deal Journal Australia | November 30, 2012
Australian Elite Seeks to Bridge Middle East Investment Gulf
By Caroline Henshaw
Australian politicians and senior business figures are heading to the Gulf this week in a bid to woo more business from the region.
The mission–led by former Deputy Prime Minister Mark Vaile and featuring envoys from across the car, construction, defense and food sectors–left for the Saudi Arabian capital on Thursday night for a week-long tour designed to boost trade and investment between the regions.
Mr. Vaile said he hoped the series of high-level meetings will help free trade negotiations between Australia and the Gulf Cooperation Council, which also includes Bahrain, Kuwait, Oman, Qatar and the United Arab Emirates.
Australia is seeking to diversify its relationship with the fast-growing region, which is forecast to have a combined gross domestic product more-than US$2 trillion by 2020. Currently, Australia's exports to the Gulf are led by food, cars and education.
Professor Philip Cox, founder of Cox Architecture which designed Saudi Arabia's embassy in Canberra and does around a tenth of its business in the Middle East, said Australia faces strong competition from business-hungry companies in Europe and the U.S., which have stronger historical ties there.
But Australia Post Chief Executive and Chairman of the Council of Australian-Arab Relations Ahmed Fahour argues that the relative youth of the relationship could actually help business.
"After 9/11, and some of the issues and tensions that occurred around the world, Australia is seen to be a neutral nation where there is safety in issues such as multiculturalism," he said.
Australian flag carrier Qantas this year signed a far-reaching alliance deal with the UAE's Emirates Airline, the world's largest carrier by international traffic, which will see the flying Kangaroo relocate its European connecting hub to Dubai.
The Abu Dhabi Investment Authority, the world's largest sovereign wealth fund with around US$627 billion in assets, last month paid 436 million Australian dollars (US$454 million) for a stake in unlisted property vehicle AMP Capital Retail Trust.
But growing economic links with the Gulf—particularly when it comes to the sensitive topic of investment in farmland and live animal exports—have also caused controversy in Australia.
News that Hassad Food, the agricultural arm of Qatar's US$140 billion sovereign wealth fund, has bought several tracts of Australian land sparked an outcry among conservative lawmakers, who fear such investment may end up squandering local resources with little regard for the country's ecology.
South Australian sheep farmer Brian Wilson is going on the mission in search of joint-venture investors to expand his business. His company, Wilson Pastoral Australia, works with Middle Eastern partners to breed hardier animals that need less food to survive—a key consideration for the desert Gulf countries.
"When things are mortgaged up to the hilt and the banks are involved then it's either bank ownership or foreign ownership," he said.