Agrimoney.com | 14 November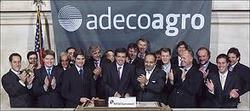 Adecoagro, the South American farm operator backed by George Soros and Dwight Anderson, said that growth in the value of its huge land portfolio slowed to 5.6%, fuelling concerns over the impact of Argentine curbs on foreign investors.
The farm operator in Argentina, Brazil and Uruguay said that its 285,787-hectare landbank – an area bigger than Luxembourg – had been valued by independent surveyors at $938.0m, as of the end of September.
Excluding disposals, that represented an uplift of $49.3m, or 5.6%, far less than the underlying growth of $105.6m, or 14.0%, the previous year.
The slowdown in gains from a land development segment which Adecoagro regards as a key earner was termed "disappointing" by Itau BBA analyst Giovana Araujo, who noted the lowly rate of increase compared with the group's cost of capital.
Indeed, the slow rate of growth raised concerns over the impact on Argentine land prices of restrictions passed last December limiting foreign ownership of farms.
'Concerned about the business environment'
"We remain concerned about the business environment in Argentina," Ms Araujo said.
"Argentina's current restrictions on land acquisition by foreigners, combined with its currency and capital controls, create challenges to Adecoagro's farming and land transformation businesses."
The curbs include measures such as limit of 1,000 hectares of ownership of rural land by foreigners.
Argentina's government also places tight controls on wheat exports – which have encouraged a shift by farmers to growing barley – and imposes export taxes, potentially of some 30%, on crops such as corn and soybeans.
Most of Adecoagro's portfolio is in Argentina. While the group did not give a breakdown of the latest survey, the 2011 report valued the Brazilian holdings at $134.2m, with the Argentine land, and single Uruguayan farm, valued at a combined $764.9m.
Into the red
Adecoagro published its land valuation results as it unveiled a net loss of $2.79m for the July-to-September period, compared with earnings of $30.8m a year before.
While revenues rose 3.7% to $167.6m, boosted by high volumes of crop sales and a jump in sales of ethanol by the Brazilian sugar operations, profits were hurt by unrealised losses on hedge positions, stemming from elevated commodity values during the quarter.
Adecoagro shares, which are listed in New York, closed down 1.1% at $8.99.
The group's main shareholder is George Soros's Soros Fund Management, with w a 21.1% holding.
Ospraie Management, the hedge fund started by Dwight Anderson, has a 9.1% stake.