Survival international | 14 November 2012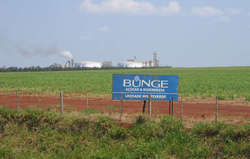 For more information about the struggles of the Guarani against the adavance of sugar cane plantations, see the film
The Dark Side of Green
US food giant Bunge has been implicated in a sugarcane scandal in Brazil that has kept an entire indigenous community off its land, polluted streams and inflicted illness and death on Guarani Indians.
Headquartered in the US, global grain trader Bunge is deeply involved in Brazil's burgeoning biofuels market, and sources sugarcane from farmers who have taken over ancestral land of the Guarani.
A community of Guarani in the state of Mato Grosso do Sul, whose land was taken from them to make way for the plantations, says the invasion of sugarcane, associated machinery and pesticides has ruined their lives over the past four years.
Two Guarani from Jata Yvary community have already committed suicide this year. The boys, aged 16 and 13, were found hanging from trees. A truck from the plantations used by Bunge also reportedly ran over and killed a man.
The community says, "We Guarani don't want sugarcane planted on our land anymoreit harms our health, including the health of our children, and elderly people, and the poison contaminates the water."
The Guarani say pesticides sprayed from planes land on their community, and discarded machinery and crops have been left to rust and rot in streams they rely on for water.
In a letter they call for their "land to be demarcatedand for white people in the area to be evicted, because with them we don't have space to hunt and fish, and we can't practice our traditions. We want to preserve the forest but they are destroying it, and illegally making money from it.
Brazil's constitution, and an agreement signed by the authorities and the Guarani, obliges the government to map out and protect all Guarani land. But this program has come practically to a stand-still, and as the Guarani wait for their land to be returned to them, they are seeing it consumed by an ever-advancing wave of sugarcane.
Global non-profit Survival International has written to Bunge, but the company was unapologetic, saying it would continue to source sugarcane from this ancestral Guarani land until the Brazilian authorities fully map out the area as indigenous.
Earlier this year, biofuels company Raizen, set up by Shell and COSAN scrapped controversial plans to source sugarcane from land grabbed from the Guarani after a sustained campaign by the Indians and Survival.
Survival International's director Stephen Corry, said today, "Much of Brazil's biofuel is tainted with Indian blood. Those using it should be aware that their so-called 'ethical' choice is contributing to the death and utter destitution of Guarani Indians. Bunge must follow Shell's lead and leave Guarani land, without hiding behind the excuse of waiting for official land recognition which can take decades."
Act now to help the Guarani
Your support is vital for the Guarani's survival. There are lots of ways you can help.