Investors look to farmland as tangible, stable asset
Published: 12 Nov 2012
AgWired | 12 November 2012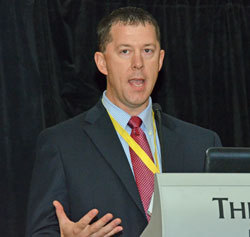 Steve Kenney of Hancock Agricultural Investment Group
With the ups and downs of the stock market in the past few years and the boom in the rural economy, institutional investors are looking at farmland as a tangible, stable asset to have in their portfolio. At the recent 83rd Annual Meeting and Trade Show of the
American Society of Farm Managers and Rural Appraisers and AgroNomics Conference & Trade Show
, Steve Kenney with the Hancock Agricultural Investment Group in Des Moines, Iowa talked about how investors are seeing ag areas as an obvious choice.
"Institutional investors are now taking a look at this asset class as a way to have stable income flow, steady returns to offset their liabilities from their pensioners. It helps to mitigate some of the volatility in their overall pension," Kenney explained. He said interest is being driven by the volatility in stocks and bonds and the troubles in the commercial real estate market. "It's a tangible asset. It's something they can go out and kick the dirt… no pun intended."
Kenney added that they can invest in annual crops, like row crops, or permanent ones, such as timber, or both, but the row crops offer less risk. He said the institutional investors are beginning to carve out a real asset portfolio, and farmland is part of that package. Kenney counsels that investors need to look at a long-term approach to this investment… at least 10 years and probably closer to 20-30 years.
Listen to Chuck's interview with Steve here:
Interview with Steve Kenney, Hancock Agricultural Investment Group