Agrimoney.com | 7 November 2012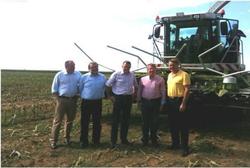 Directors of Danish company FirstFarms in Slovakia.
FirstFarms ditched its last hopes of avoiding a return into the red after disease at its dairy herd added to the pressure on profits from poor weather for its arable operations, and prompted its second profits warning in three months.
The eastern Europe farm operator said that it had found a "larger extent" of mycoplasma in its Slovakian dairy unit, "which influences the disease pressure in the herd significantly and thus the production and operating profit" in the business.
While moves were being taken to "minimise further spread in the herd and slaughtering of infected animals", the outbreak would leave a dent of DKK10m-15m operating profits, FirstFarms, which is listed in Copenhagen, said.
Mycoplasma is a bacterium which causes a variety of illnesses in cattle, including mastitis, metritis and pneumonia.
'Very bad growth conditions'
The group also unveiled a further downgrade to hopes for its cropping operations thanks to dry weather which tested corn, or maize, crops in many eastern European countries, forcing a series of harvest downgrades.
"The harvest of maize in Romania and Slovakia has been 35% below expectations due to very bad growth conditions over the summer," FirstFarms said.
With corn representing 30% of area, and sold in advance at contracted prices, "the missing yield has full effect on the expected result".
Cost cuts
Indeed, FirstFarms downgraded to a loss of DKK15m-20m, from a potential breakeven result and at worst a DKK5m loss, its forecast for full-year operating profits.
FirstFarms, which for 2011 reported its first profit in four years, had initially guided investors to operating profits for 2012 "profit "on a par with" last year's DKK17m, before the eastern European drought and weaker dairy productivity prompted the group's first profits warning, in August.
"An action plan and steps to revise the strategy have been implemented, which shall bring FirstFarms among the most profitable [agriculture groups] in Europe," said the group, which has closed its Bucharest office and shifted its Denmark headquarters to smaller premises.
The group has also scrapped the post of chief operating officer, meaning the departure of Per Villumsen, who in June switched to the role after two years as chief executive.
FirstFarms shares stood 3.8% lower at DKK 38.00 in morning deals.