IPS 1 November 2012 |
français
|
Español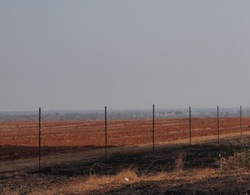 Farmers from Mpongwe district in the mineral-rich Copperbelt Province claim they were evicted from this 46,876 hectares of commercial land, by a South African-based agribusiness. (Photo: Nebert Mulenga/IPS)
By Nebert Mulenga
LUSAKA, Nov 1 2012 (IPS) - Increased agricultural development in Zambia will actually compromise the country's food security as peasant farmers continue to be driven off their customary land to pave the way for large-scale local and foreign agribusiness, according to the University of Zambia's dean of the school of agriculture, Dr. Mickey Mwala.
"Smallholder farmers are the people responsible for food security in Zambia. So, evicting them could have a long-term effect on the country's food security situation, if prolonged and extended," he told IPS.
According to the United Nations World Food Programme, most households in Zambia are currently food secure, with only 62,842 of the country's estimated 13.4 million people being acutely food insecure.
"Land grabs increase the incidence and prevalence of poverty in the country by increasing the number of people who can't grow their own food, and who can't send their children to school," Mwala said.
The eviction of farmers from their customary land started 12 years ago but assumed prominence after 2005 when the government started calling for increased foreign investment, according to the Zambia Land Alliance, a land rights advocacy organisation.
Land grabs by both foreign and local investors are now considered commonplace in this southern African nation. In Masaiti district, in the mineral-rich Copperbelt Province, over 2,000 farmers were allegedly evicted from their land in 2011 following the acquisition of over 200 hectares by a Nigerian cement manufacturer. They were later paid 250 dollars per hectare as compensation.
The establishment of mining businesses in the North-Western, Copperbelt and Luapula provinces has also left thousands of smallholder farmers homeless.
According to a 2011 report by GRAIN, an international non-governmental organisation that promotes the sustainable management and use of agricultural biodiversity, titled "Land grabbing and the global food crisis", three percent of Zambia's farmlands are controlled by foreigners for agrifood production.
And according to the Oakland Institute, an independent policy think tank, agricultural investment here is on the rise as the government "is quietly marketing and planning the development of at least 1.5 million hectares of its land."
Although no study has been conducted to determine the actual number of farmers displaced by the land grabs, the Zambia National Farmers Union (ZNFU) said affected farmers could be in their thousands.
According to ZNFU's vice president Graham Rae, the displacement of farmers from their customary land is an issue of concern. "It has been going on for some time now and many of our farmers, especially in rural areas, are affected.
"Our food security situation could be affected because we are talking of probably thousands of farmers not producing harvests. In countries like South Africa, food security is primarily based on large-scale farmers, whereas in our case the small-scale sector plays a major role. So food security could be negatively affected, not only at household level but also at national level," Rae said.
Smallholder farmers account for 70 percent of Zambia's farming community, according to the ZNFU. The union has 600,000 smallholder farmers, emergent farmers, and commercial farmers. Of that number, two-thirds or 400,000 are smallholder farmers. But the total number of smallholder farmers in the country could be double or even triple that as many are not affiliated with the association.
Henry Machina, executive director of the Zambia Land Alliance, an advocacy group, blames the eviction of farmers on the "cumbersome" procedures involved in obtaining title deeds and the "archaic" laws which do not recognise customary rights as a form of land ownership. Under Zambian law, title deeds are the only legal proof of ownership of land.
"To get a title deed, it takes anything between two months and 10 years. The system is very much archaic and centralised – you can only get the title deeds from the Ministry of Lands in Lusaka," Machina told IPS.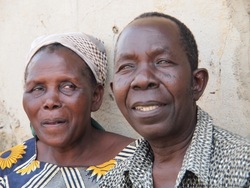 Pretorious Nkhata (pictured with his wife) from Mpongwe district in the mineral-rich Copperbelt Province, says he was driven off his customary land. (Photo: Thomas Kruchem)
"For farmers in rural areas, obtaining a title deed for their land is very costly. They have to pay transport fares as well as pay for meals and lodging facilities every time they travel to make a follow-up. It can cost them up to 10 million Kwacha (about 2,000 dollars) just in the process. As a result, many of them just sit back and continue farming," said Machina.
Currently 59 percent of Zambians live below the poverty line, with 65 percent of the population living in rural areas.
Pretorious Nkhata, from Mpongwe district in the Copperbelt Province, is one of those farmers. The 68-year-old claims that he was evicted from his 21-hectare piece of customary land, which he had been farming for over 10 years, by a South Africa-based agribusiness in 2008.
Nkhata and the other farmers displaced from the 46,876 hectares of now commercial farmland told IPS that they had obtained their land from a traditional leader but did not get deeds of ownership from the government.
"They said we were squatters, we were intruders on that land. I had 21 hectares … I lost it all…
"They (the South African agribusiness) came with guns and threatened to shoot anyone who resisted moving out. They burnt all our household properties without any notice. We were almost 200 households. They burnt my food barns, clothes, blankets, bedding, television set – they even burnt my fields," he said.
The agribusiness has since sold the land and closed its operations in Zambia. IPS' efforts to locate the company for comment proved futile.
A prominent lawyer, who represents displaced farmers and declined to be named, told IPS that people occupying customary land in Zambia have no legal protection, and even their compensation is mostly on humanitarian grounds.
"Sections 33 and 34 of the Lands and Deeds Registry Act say having a certificate of title is a prima facie evidence of ownership of land. The basic principle is that one who has a title is the owner of the land and everything on that land. It doesn't matter what developments you have put there if you have no title deed," said the legal representative.
"What we fight for when representing those clients whose land has been repossessed is just some form of compensation for the developments put up on the land – but the new land owners are not under any legal obligation (to pay compensation)."
Permanent secretary in the Ministry of Lands Daizy Ng'ambi told IPS that the government is currently developing a working document to offer some form of security for customary tenure.
"At the moment, there is really no provision for people (on customary land) who do not have title deeds. But it is envisaged that once the working document on security of tenure for customary land has had an input from all stakeholders, issues of customary ownership and proper compensation will be taken into consideration," Ng'ambi said.
She also said that her ministry was working on improving the technology involved in processing titles, which is expected to cut down on the cumbersome procedures and time taken to obtain one.
Despite these changes, it will not give Nkhata back the land he once thought he owned. Now Nkhata resides in a tiny village surrounded by wire-fenced commercial farms, some 40 kilometres from his former farm. "Now I am stranded. They didn't give me any compensation or alternative land," he said.