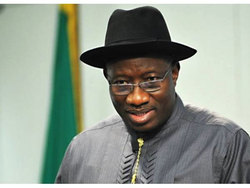 Nigerian President Goodluck Jonathan
Guardian (Nigeria) | Friday, 26 October 2012
Groups caution Nigeria, others over land deals with foreign investors
From Bola Olajuwon, Addis Ababa, Ethiopia
A COALITION of international non-governmental and farmers' organisations has urged Nigerian and other African leaders to guarantee transparency in the management of large-scale land transactions and freeze acquisitions, which do not conform to rules, regulations and the framework of the land declaration of the African Heads of States and Government of 2009.
Nigeria, in particular, has over the years, been offering land to lure foreign investors to the economy, at heavily discounted rates, usually without requisite consultations with small land owners and farmers.
Four organisations – Network of Farmers' and Agricultural Producers' Organisations of West Africa, Actionaid, Oxfam and Eastern Africa Farmers' Federation (EAFF) – made the appeal in an open letter to African Presidents and Heads of States, just as African partners under the platform of Land Policy Initiative (LPI) strategised for enforcement of AU's declaration on land.
The coalition of international non-governmental and farmers' organisations, in the open letter, said in the last 10 years, 50 million hectares of land on the continent have been acquired in 700 land deals with foreign investors.
"This is equivalent to the sale of either Kenya or Cameroun. From Senegal to Zambia, small-holder producers, many of them women, have lost their homes and the land they rely on for their survival, often violently and without adequate compensation," the letter stated.
The groups said the recurrent soaring of food prices, combined with boom in agro fuels and speculation, has led to a renewed interest in land, resulting in a rush for African land by foreign investors.
The coalition expressed concern at the growing phenomenon of land grabbing and feared serious damage to people's food security, if measures are not taken to ensure land rights.
"Despite the gravity of the issue of land grabbing, insufficient dialogue is taking place among policy-makers and the wider public, while views and perspectives of small-scale producers are missing from the limited conversation that is taking place," the groups stated.
They contended that the illegal land grabbing phenomenon has been persistent, despite the fact that Pan African Parliament Committee on Rural Economy issued a declaration in October 2011, expressing its concern and calling on African governments to adopt a moratorium on land grabs, until its social, environmental and economic impacts are better understood.
Also, they recalled that in 2009, the Heads of States adopted a declaration on land issues in Africa, based on the framework and guidelines on land policy in the continent and United Nations (UN) also drafted and approved a set of Voluntary Guidelines for governments to adopt to national context.
Therefore, the groups urged the African Presidents and Heads of States among others, to:
• Ensure that market-driven policies of land development do not expose vulnerable groups, particularly women and the young;
• avoid marginalisation that could jeopardise the progress of execution of the core standard of African Union, including the Comprehensive African Agriculture Development Programme (CAADP);
• apply national land policies on United Nations Voluntary Guidelines on responsible tenure on land, Fisheries and forest; and
• freeze temporary large-scale land investment by bilateral and multilateral partners, until better protection policies are established to prevent land grabbing.
Meanwhile, the LPI members – the African Union (AU) Commission, in collaboration with UNECA and African Development Bank (AfDB) – and their partners have met on the sideline of the yearly conference of the African Development Forum VIII to review the LPI activities and mapped out appropriate institutional strategies that can support member-states in their efforts towards reviewing, developing and implementing land policies including mechanisms for progress tracking and reporting.
The Chief Land Policy Initiative, Food Security and Sustainable Development Division (FSSDD), Economic commission for Africa, Dr. Joan Kagwanja, briefed the body late on Tuesday with AU Commission, AfDB, the European Union (EU) and other partners, pledging more support in the implementation of the LPI.
Kagwanja and others who spoke at the event said land issues, which the LPI focuses on, are causing increasing concern to AU, African governments, the private sector, farmers' organisations and civil society organisations in Africa and the development partners.
They tasked African countries on the need to promote sustainable use of the substantial land resources for employment, sustainable growth and investments.