Australian Financial Review | 23 October 2012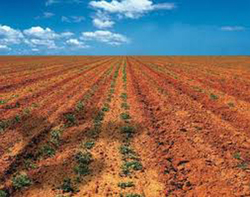 The new Australian head of Singapore-listed agribusiness Olam International, Bob Dall'Alba, wants to build more partnerships with institutional investors to open up investment in the agricultural sector.
Already, several domestic super funds including AustralianSuper and AMP have started to invest in private rural companies in Australia and expect other institutions may follow.
Mr Dall'Alba said that Olam, which snapped up TimberCorp's almonds business in 2009 for $320 million, was open to pairing up with institutional investors keen to enter the agricultural sector, which remains largely in private hands.
"What I would like to do is provide a local face to institutions that want to invest in agriculture here, regardless of whether they are Australian or overseas investors," Mr Dall'Alba said.
Olam, which is backed by the $S198 billion ($157 billion) Temasek Holdings and Indian conglomerate Kewalram Chanrai Group, started operating in Australia with the takeover of Queensland Cotton in 2007 and GrainCorp's wool businesses in 2008.
"One of the key things Olam wants is scale," Mr Dall'Alba said.
His comments come after yet another major rural takeover attempt in Australia - this time a $2.7 billion play on GrainCorp from US group Archer Daniels Midland.
However, GrainCorp, as one of the last listed rural companies on the Australian Securities Exchange, is now an indicator of the dwindling number of listed opportunities for institutional investors to buy into.
AustralianSuper's chief investment officer Mark Delaney said local super funds needed to explore new ways to invest in rural businesses because of the current limitations. "Very few agriculture companies are listed on the stock exchange and what that means is super funds who typically invest in equities, whose benchmark is the ASX, end up having very little agricultural investment," Mr Delaney said.
Mr Delaney said that while a lot of agriculture is in the form of fairly illiquid assets, that "doesn't preclude further investment in the future".
"The thematic of growing middle classes in developing countries has triggered funds to rethink other ways to invest in agriculture," he said.
"[Agriculture] is becoming a growing area of focus, but it will come down to execution of deals."
For Mr Dall'Alba any new partnerships will provide a greater presence in an increasingly competitive market but "obviously all the investments will have to stack up first".