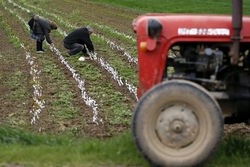 Agriculture represents about 12 per cent of Serbia's economy. (Photo: Marko Djurica / Reuters)
The Natiional | 23 October 2012
by Tom Arnold
Abu Dhabi's Al Dahra Agricultural Company is to develop 9,000 hectares of farmland in Serbia as it seeks to bolster food security in the UAE.
The €300 million (Dh1.43 billion) joint investment with the Serbian government will focus on producing a range of crops, meat and dairy produce.
Al Dahra confirmed the deal but declined to comment further.
The investment comes as the Emirates steps up efforts to diversify its food supplies to reduce its vulnerability to shocks in the food chain caused by bad weather and price increases.
Global prices for meats, dairy products and cereals rose higher last month, according to the latest data from the United Nations Food and Agriculture Organisation, fanning concerns that some countries may face food shortages.
The UAE imports about 85 per cent of its food supplies and Al Dahra has emerged as a key player in the country's strategy of securing land and produce overseas. Serbia is the company's second investment in Europe. It already operates an animal fodder business in Spain.
The UAE would also provide funding for the modernisation of Serbia's irrigation canal network, Serbian media websites reported, citing a release from the Serbian finance ministry.
In exchange, Serbia would guarantee Al Dahra's ability to export wheat, corn, clover, meat, dairy products, semi-processed and finished food products regularly to the UAE and other markets.
Al Dahra plans to use a port on the Danube River as a logistics centre to export the goods.
The deal was signed on Friday after a visit to the UAE by a Serbian delegation led by Aleksandar Vucic, the Serbian first deputy prime minister and defence minister, and Mladjan Dinkic, the country's finance minister.
Sheikh Mohammed bin Zayed, Crown Prince of Abu Dhabi and Deputy Supreme Commander of the Armed Forces, was among dignitaries meeting the delegation.
Serbia has been striving to encourage foreign investment as it grapples with its second recession in three years and a budget deficit projected at 6.2 per cent of GDP.
"The UAE has been aggressive in its strategy of looking for farmland and part of it is the recognition of the structural shift in the global economy and the understanding that global food prices will be an issue for a long time," said Rachel Ziemba, director of Eastern Europe, Middle East and Africa and global macroeconomics at Roubini Global Economics.
"Central and Eastern Europe, former CIS [Commonwealth of Independent States] countries and Africa have been targeted extensively. These are areas where you don't have highly productive agricultural investment and there's opportunities to improve irrigation and mechanise farmland."
Ms Ziemba said the UAE's strategy of buying into the global food chain also made sense to ensure it benefited from any future rises in food prices. The Organisation for Economic Cooperation and Development has warned that global food prices are likely to remain high until 2020 as emerging market populations grow.
Agriculture represents about 12 per cent of Serbia's economy. The country is a large producer of maize and wheat and is estimated to be the second largest producer of raspberries and plums in the world. But the agricultural sector has also struggled as a result of lack of investment and inefficiencies in crop irrigation and export of goods.
[email protected]