The Myanmar Times | 15 October 2012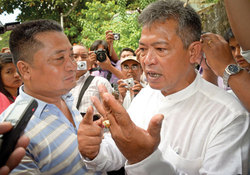 U Win Cho (R) is confronted by a plain-clothes policeman opposite Yangon's Parkroyal Hotel on October 12. (Photo: Boothee / The Myanmar Times)
by Sandar Lwin
A prominent activist last week staged a demonstration outside the 2nd Commercial Farm Asia conference at Yangon's Parkroyal Hotel, calling on participants to respect the tenure rights of the country's farmers.
The October 11-12 event attracted about 100 agribusiness industry delegates and was organised by Singapore's Centre for Management Technology.
"I staged this protest against [Commercial Farm Asia]. I will send our demands to that forum in person because I'm not sure they will take notice of our demand letter," he said.
He said he was unable to get permission to hold a legal protest because he is already facing 10 counts of breaking the peaceful protest law as a result of his work with farmers involved in land ownership disputes.
"I just informed the farmers and those who are close to me about the protest. I didn't urge them because I am doing this without permission from the authorities. I didn't apply because the authorities said I'm not eligible [to hold a protest] because of the 10 charges I am already facing for breaching the protest law."
Meanwhile, news agency AFP reported that government officials speaking at the forum invited foreign investment in the agricultural sector.
"It is the best time and good chance to invest in Myanmar due to its available climate condition, available vast land resources, manpower resources and favourable policy for agribusiness," said Daw Khin Mya Mya, a deputy director at the Ministry of Agriculture and Irrigation.
"We warmly welcome investors to invest in Myanmar," she said, adding that the country's large areas of farmland and low labour costs presented attractive opportunities.
The government particularly wants to promote investment in industrial crops, such as rubber and palm oil, the report said.