10 October 2012
Statement by political parties and civil society in response to the
Second Commercial Farm Asia 11-12 Oct 2012, Yangon, Myanmar

1. While disputes over land tenure in the region are on-going and cannot be settled, the lease and disposal of land to outsiders must not be permitted.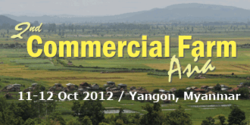 2. Proper documentation must be given to the household after taxes are paid for a certified government land map and survey.
3. The government must publish in government gazettes and state owned newspapers the new land laws to help raise awareness among the population.
4. EIAs, SIAs, and HIA must be done first before granting land use titles to the private sector.
5. Disputes over land tenure must be mitigated, and the government must stop taking action against residents without arbitrary rules or regulations, according to section 25 of the Vacant, Fallow, and Virgin Land Law.
6. With respect to Vacant, Fallow, and Virgin Land Law, the government must seek feedback from citizens. In the event of severe land conflicts, the project must be suspended.
7. The laws and rules of the Vacant, Fallow, and Virgin Land Law must be harmonized and further scrutinized by the Hluttaw (Parliament).
8. Local residents, or those that have resided in that area for more than twenty years, have priority over the vested right to utilize or occupy those lands.
9. Bribery and corruption within government at different levels is a major obstacle for cultivators to secure land tenure. This needs to be addressed.
10. The government should provide technical inputs, capital, and appropriate knowledge directly to smallhold farmers to their benefit.
For more information contact: Kevin woods ([email protected])