9 October 2012, Burma/Myanmar
LAND NOT FOR SALE!

Letter of Global Solidarity against Land Grabs in Burma/Myanmar
The current reforms in Burma/Myanmar are worsening land grabs in the country. Since the mid-2000s there has been a spike in land grabs, especially leading up to the 2010 national elections. Military and government authorities have been granting large-scale land concessions to well-connected Burmese companies.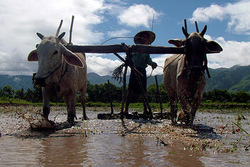 Farmers' protests against land grabs have drawn recent public attention to many high profile cases, such as Yuzana's Hukawng Valley cassava concession, the Dawei SEZ in Tanintharyi Region near the Thai border, Zaygaba's industrial development zone outside Yangon, and the current Monywa copper mine expansion in Sagaing Division, among many others. By 2011, over 200 Burmese companies had officially been allocated approximately 2 million acres (nearly 810,000 hectares) for privately held agricultural concessions, mainly for agro-industrial crops such as rubber, palm oil, jatropha (physic nut), cassava and sugarcane.
Land grabs are now set to accelerate due to new government laws that are specifically designed to encourage foreign investments in land. The two new land laws (the Farmlands Law and the Vacant, Fallow and Virgin Land Law) establish a legal framework to reallocate so-called 'wastelands' to domestic and foreign private investors. Moreover, the Special Economic Zone (SEZ) Law and Foreign Investment Law that are being finalized, along with ASEAN-ADB regional infrastructure development plans, will provide new incentives and drivers for land grabbing and further compound the dispossession of local communities from their lands and resources. Land conflicts that are now emerging throughout the country will worsen as foreign companies, supported by foreign governments and International Financial Institutions (IFIs), rush in to profit from Burma/Myanmar's political and economic transition period.
Land grabs have especially severe impacts on the people in Burma/Myanmar since 70 percent of the country's population is made up of rural farmers who rely on their farmlands to survive. The government, with help from UN agencies, is beginning a national land titling programme to turn land into capital and formalize land use rights. While this presents a solution to some – especially urban land holders – land titling presents huge challenges and tenure insecurity for rural farmers, especially in the uplands, as already evidenced in Cambodia and the Lao PDR.
Instead of focusing only on technological fixes, such as land titling, the government should adopt laws and policies that support smallhold farmers' livelihoods, such as legal recognition of and respect for customary rights and institutions, as well as recognition of upland shifting cultivation as a formal land use category. Smallhold farmers, landless people, and land-poor households have fundamental rights to land and food that need immediate attention. These rights must be protected by new government legislation, which is the best way to ensure sustainable and equitable development for Burma/Myanmar.
Furthermore, the Burma/Myanmar government should follow global trends and respect the
Dakar Appeal against Land Grabbing
, the
Nyéléni Plan of Action against Land Grabbing
, and the
Global Campaign for Agrarian Reform's statements against Responsible AgriculturaI Investments
(RAI). Burma/Myanmar does not have to follow the mistakes made by other countries, who have been advised by IFIs and foreign governments to allow their lands to be exploited by foreign and domestic companies. Farmers' lands in Burma/Myanmar are not for sale.
We, the undersigned, give our full support and solidarity to the farmers in Burma/Myanmar in resisting land grabs in their country!
1.Saturnino M. Borras Jr., International Institute of Social Studies (ISS), The Hague, Netherlands
2.Philip McMichael, Professor, Development Sociology, Cornell University, USA
3.Focus on the Global South, Thailand
4.FIAN International
5.EarthRights International, USA
6.GRAIN
7.World Rainforest Movement
8.Dr. Rajeev Patel, Fellow, Food First, USA
9.Food & Water Watch, USA
10.Oakland Institute, Oakland, CA, USA
11.Dr. Ken Kampe, Tamthai Fund, Chiangmai, Thailand
12.Krishan Bir Chaudhary, Bharatiya Krishak Samaj, India
13.The Citizens Concern for Dams and Development, Manipur, India
14.Centre for Research and Advocacy, Manipur, India
15.North East Peoples Alliance, India
16.Food First, USA
17.Inclusive Development International, USA
18.Dr. Radhika Balakrishnan, Rutgers University, USA
19.Sindhu Bachao Tarla (Save Indus Struggle), Pakistan.
20.Re Common, Italy
21.Serikat Petani Indonesia (SPI), Indonesia
22.Aksi, Indonesia
23.Culture Identity and Resources Use Management (CIRUM), Vietnam
24.ATTAC, Japan
25.Assembly of the Poor, Thailand
26.Thai Poor Act, Thailand
27.Local Action Links, Thailand
28.Biothai Foundation, Thailand
29.Four Regions Slum Network (FRSN), Thailand
30.Community Organization for People's Action (COPA), Thailand
31.Human Settlement Foundation (HSF), Thailand
32.Leaders and Organizers of Community Organizations in Asia (LOCOA), Thailand
33.Cambodian League for the Promotion and Defense of Human Rights (LICADHO)
34.Equitable Cambodia, Cambodia
35.Community Peace Building Network (CPN), Cambodia
36.Peoples' Action for Change (PAC), Cambodia
37.Jeremy Ironside, Cambodia
38.Housing Rights Task Force (HRTF), Cambodia
39.Free Burma Campaign, South Africa
40.Alternative Information & Development Centre of South Africa, South Africa
41.Altsean-Burma (Alternative ASEAN Network on Burma)
42.Actions Birmanie, Belgium
43.Burma Campaign Australia
44.LICADHO Canada
45.The Polaris Institute, Canada
46.FERN, UK and Belgium
47.Burma Campaign UK
48.Centro Internazionale Crocevia, Italy
49.Kilusang Magbubukid Ng Pilipinas (Peasant Movement of the Philippines), Philippines
50.Terra Nuova, Italy
51.CECCAM, Mexico
52.Land Research Action Network (LRAN)
53.Bharat Jan Vigyan Jatha, India,
54.Beyond Copenhagen Collective, India
55.Amadou Taal, Worldview-The Gambia
56.REDES--Friends of the Earth, Uruguay
57.Friends of the Earth International
58.M Kikon, DICE Foundation, Nagaland, India
59.Grassroots International, USA
60.All Nepal Peasants Federation, Nepal
61.Bangladesh Krishok Federation, Bangladesh
62.Bangladesh Kishani Sabha, Bangladesh
63.Secretariat, La Via Campesina, South Asia
64.MONLAR, Sri Lanka
65.Karnataka Rajya Raitha Sangha, India
66.Bhartiya KIsan Union, India
67.Thamizhaga Vivasaylgal Sangam , India
68.Burma Action Ireland
69.Paulette Nonfodji, University of Amsterdam, Amsterdam, Netherlands
70.Joshua Muldavin, Action 2030 Institute, Professor of Human Geography and Asian Studies, Sarah Lawrence College, USA
71.Raymond Craib, Associate Professor of History, Cornell University, USA
72.Meghan Morris, Graduate Student, University of Chicago, USA
73.Social Action for Change (SAC), Cambodia
74.Farmers Nature Net (FNN), Cambodia
75.Professor Ian Scoones, Future Agricultures Consortium, Institute of Development Studies, University of Sussex, Brighton, UK
76.Justa Hopma, Aberystwyth University, PhD student
77.Lyla Mehta, Institute of Development studies, UK
78.Teo Ballvé, Department of Geography, UC Berkeley, USA
79.James K. Boyce, Department of Economics, University of Massachusetts, USA
80.FIAN Germany
81.Burma Partnership
82.Andrianna Natsoulas, USA
83.Shelter for the Poor, Bangladesh
84.Swiss Burma Association, Swizerland
85.Center for Women's Global Leadership (CWGL), USA
86.Global Exchange, USA
87.Food Not Bombs, Malaysia
88.Thai Working Group for Climate Justice, Thailand
89.Center for Ecological Awareness Building /EAB, Thailand
90.ASEAN Watch, Thailand
91.FTA Watch, Thailand
92.National Forum for the Urban Poor, India
93.Global Witness, UK
94.Cecile Fameree, Leiden Institute of Areas Studies (LIAS), Leiden University, Leiden, Netherlands
95.Both ENDS , The Netherlands
96.S. Ryan Isakson, Assistant Professor of International Development Studies University of Toronto, Canada
97.Prof. Shelley Feldman, Development Sociology and Director, Feminist, Gender and Sexuality Studies, Cornell University, USA
98.Prof. Kathleen McAfee, Associate Professor, International Relations, San Francisco State University, USA
99.Hannah Wittman, Faculty of Land and Food Systems, Institute for Resources, Environment and Sustainability, The University of British Columbia, Vancouver, Canada
100.Prof. Michael Eilenburg, Aarhus University, Denmark