Bernama | 2 October 2012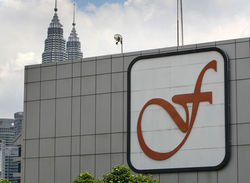 YANGON: Felda Global Ventures Holdings Bhd (FGV) plans to develop a complete supply chain of its three core business -– palm oil, sugar cane and rubber -- in Myanmar.
To realise the goal, the group has signed a memorandung of understanding (MoU) with local partner, Pho La Min Trading Ltd (PLM), to explore rubber plantations and rubber processing in the country.
President and Chief Executive Officer Datuk Sabri Ahmad said under the deal, a joint-venture company will be set up to develop rubber business in three phases, starting with the establishment of a processing plant.
"We hope to conclude this in December or early next year and then we will plan to grow rubber trees on 30,000 hectares in Myeik.
"As for the third phase, we are looking at downstream opportunities such as tyre manufacturing and rubber glove," he told reporters after the MoU signing.
In addition to this, he said, FGV also wants to emulate Felda's social scheme in Myeik and was studying the feasibility.
Sabri said the group had also identified areas suitable for sugar cane and oil palm plantations.
"Generally, the southern region areas are more suitable for oil palm. The middle region and other areas are a bit too dry for oil palm. So, rubber is more feasible.
"Sugar cane in Mandalay area is suitable. So, we are discussing with other Myanmar companies to explore the possibility of planting sugar cane in Mandalay, he said.
Sabri said the group has been aggressively exploring opportunities in Myanmar since last year following the country's economic liberalisation recently.
It is already exporting palm oil products such as well-known SAJI's cooking oil, Adela industrial margarine, Mariana shortening and SunBear bread spread range to Yangon.
Local partner, Grand Wynn Enterprise, has been appointed distributor for the products, which will be distributed in Mandalay next year.
Sabri said the overwhelming demand from Myanmarese has encouraged the group to expand to other regions as well and soon will be investing about RM30 million to establish a packing and processing plant in Myanmar.
At the same event, the group via Felda Holdings Bhd's subsidiary, Delima Oil Products Sdn Bhd, has signed an extended partnership with Grand Wynn for distribution purposes.
In conjunction with the signing, FGV also held a two-day SAJI Food Carnival in Yangon to further promote the SAJI brand.