Philippine Daily Inquirer | 30 September 2012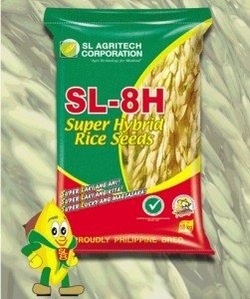 SL Agritech of the Philippines is one of the largest producers of hybrid rice seeds outside of China. The seeds of hybrid rice varieties cannot be saved for replanting by farmers.
Groups in Asia
say hybrid rice is a disaster for small farmers and that it is being used to pave the way for a corporate take-over of rice farming.
By Doris C. Dumlao
MANILA, Philippines—Key agribusiness groups from the Philippines, Myanmar and Thailand have formed a consortium to develop a formidable Southeast Asian rice supply chain using the proprietary hybrid and premium rice technology of local firm SL Agritech Corp.
Henry Lim Bon Liong, chairman and chief executive of SL Agritech—which is part of the Sterling Paper group of companies—said his group signed a few weeks ago a memorandum of understanding (MOU) with the IBTC group of Myanmar and Capital Rice Co. Ltd. of Thailand to set up the three-country private sector partnership.
"If we're talking about Asean [Association of Southeast Asian Nations] partnership, it's a good Asean partnership," Lim said in an interview with the Inquirer. He said the vision of the collaboration was "to become the biggest rice consortium" in the region.
SL Agritech will contribute its rice technology and varieties to the venture while the Myanmar partner will provide the land for production. The Thai partner will handle global marketing.
The recently signed MOU provided for the conduct of feasibility studies to identify the land for production and finalize partnership details by end-December this year. "By next year, we hope to start (production) already," Lim said.
The production base of the consortium will be in Myanmar, where cost is very low and the government provides a lot of tax incentives, Lim said. It will also be in Myanmar where a company to be owned by the consortium will be incorporated.
Partner IBTC group is Myanmar's leading manufacturer, marketer and distributor of alcoholic beverages. Its agribusiness arm is ISMSA International Sun Moon Star Agricultural Co. Ltd.
Capital Rice, which is part of the STC group, is one of Thailand's top rice exporters. Lim estimated the Thai partner's exports at 2.2 million metric tons in 2011 while the annual average was about 1.8 million MT.
Lim said initial investment in the venture would not be too big at about $10 million to $20 million.
SL Agritech will initially contribute its high-yielding SL-8H hybrid rice variety to the venture but Lim said this might also be a springboard for the premium Doña Maria rice variety.
"For Doña Maria rice, we have a big market also. Five years ago, there were Singaporean rice traders who wanted to place 200,000 MT order but it was impossible when we are importing 500,000 MT every year," Lim said.
Lim said SL Agritech was likewise working with the Tao group of businessman Jun Sy on the regional venture.
Even before the consortium, SL Agritech has been selling its hybrid rice seeds to other Southeast Asian countries.
SL Agritech started in 1998 as an unincorporated entity performing research work on hybrid rice, inspired by the success of China in becoming a surplus producer and exporter of rice despite its limited arable land. The Lim family sought and obtained the assistance of notable Chinese scientist Yuan Long Ping to develop hybrid rice varieties suitable to tropical conditions prevalent in the Philippines.
Starting modestly with land provided by the provincial government of Laguna in 1999, the company initiated the development of several hybrid rice parental lines, which were later transferred to a 40-hectare farm in Sta. Cruz, Laguna, which now houses the research and breeding complex of the company. Its proprietary hybrid rice SL-8H, which was initially released during the dry season in 2002-2003, marked the start of the company's expansion and the development of its marketing organization.