The Africa Report.com | 28 September 2012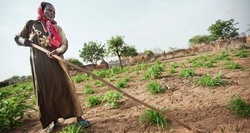 By Tinishu Solomon
Ethiopia announced on Friday plans to lease 100,000 hectares of land both to local and foreign investors, despite recent reports that foreign investors were grabbing large chunks of land.
The Ethiopian Ministry of Agricultures said details on the leases will be provided in this year's budget.
The ministry indicated that it had prepared large fertile tracts of land in Gambella, Benshangul-Gumuz, Oromia and Amhara states to be offered to investors.
Currently a large number of foreign investors are involved in various agro industries in the country, mainly Indians and Saudi investors.
However, the issue has been a major concern following reports of displacement of locals in the Gambella region, bordering South Sudan.
Human Rights Watch and other organisations have been expressing concern at "land grabbing" in Ethiopia.
But the government maintains that it only leasing out "non-utilised land" to foreign investors, downplaying the various reports and allegations of displacement.
In the 2010-2011 fiscal year Ethiopia transferred 70,000 hectares of land to both domestic and foreign investors.
It was reported that the large swathes of leased farmlands would be predominantly used to cultivate products like cotton, sugarcane, and palm oil, which have higher demand in the global market.
Some 79 metric tonnes of cotton was cultivated on previously leased 118,000 hectares of land.
Ethiopian government officials are insisting on the importance of the scheme to generate more foreign currency and create opportunities for technology transfer.
The ministry said it will closely evaluate the performance of those that had received land and will ensure environmental security is not compromised at the expense of agricultural practices on the farmlands.
Ethiopia has allocated some 3.6 million hectares of land to firms seeking to invest in agriculture.
Until 2011, land deals are already in place for 520,000 hectares, of which according to the ministry, 307,000 hectares of land has already been transferred to both foreign and domestic investors. 

The government says it plans to build infrastructure by investing in roads, telecom lines and electricity in designated areas to add value.