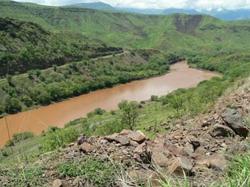 The Ethiopian government describes the lands being leased as vacant and unused, but there is debate on that point
By Logan Cochrane
Ethiopia is agriculturally rich. Currently around 90% of exports are agriculture-based. However, the potential of its rural agricultural areas is not yet being met.
Agricultural development in the rural areas of Ethiopia can facilitate greater national food security and allow for an increase in agricultural exports. The current government plan to meet that objective is to attract foreign investors to develop lands. The Ethiopian government has set aside an area of land around the size of Belgium, 3 million hectares, available for lease. Large areas of land have already been leased to a number of foreign companies. Ethiopia's President views these developments as key to improving the quality of life in Africa.
The large agricultural developments that have been set up are largely export-orientated, thus helping to meet one of the government's objectives. And, such developments are also a source for additional foreign reserves, which are unhealthily low. A portion of the produce is supposed to supply to national market; however, to what extent is unclear, as exemptions have already been made regarding export regulations for these large investors. Both the government and the companies explain that these developments will provide hundreds of thousands of jobs, which are needed in a country where a quarter of the youth are unemployed.
The government describes the lands being leased as vacant and unused, although there is some debate on that point. There is some indication, although certainly not in every foreign agricultural development, that people are being forcibly displaced in order to clear lands for these companies. The Oakland Institute suggests that some lands have even included areas in protected parks. The government of Ethiopia is currently in the process of "relocating" people in Gambella State wherein large foreign investments have taken place. However, the government says that the relocations are unrelated to the investments. This population movement is no small feat; 45,000 rural households, accounting for three-quarters of the people in that particular region, are being moved.
The Ethiopian government is not relying solely upon foreign investors; it has made significant and important progress on a number of fronts. Ethiopia is home to one of Africa's most effective social protection systems, the Productive Safety Net Program, which supports millions. This program has been creating support systems to address chronic food insecurity, shifting away from relying upon emergency aid. It has also founded the Ethiopian Agricultural Transformation Agency, which is working on a diverse array of programs, from improving seed quality to addressing national food security issues.
Agricultural development is both needed by, and important for, Ethiopia. In 2010, for example, 2.8 million Ethiopians were in need of emergency food aid. Food insecurity is a major challenge: 35% of children are moderately underweight and 14% are severely underweight; 51% of children suffer from moderate stunting and 28% suffer from severe stunting. One wonders whether export-oriented foreign agricultural developments will significantly alter this situation; and whether there are any other options that might also do so.
It is unlikely that all land leases and leasing will end abruptly. One alternative to the current status quo is for better government regulation the land-leasing process. This needs to be accompanied by the establishment and enforcement of regulations regarding supply to national markets and also by monitoring and penalizing environmental damage.
A second, complementary, option is to develop rural agriculture in partnership with those who are currently living on, and working in, those areas. The rural areas of Ethiopia are largely home to small-holder farmers. These operations are rain-fed (less than 1% are irrigated), and operate with manual labour only. Barriers to irrigation technologies are often financial and assistance in this regard can facilitate increased productivity and longer growing seasons.
A third imitative, that could be implemented in tandem with the previous two, is a shift away from seeking foreign investment of land leases and a move to seeking up-stream agricultural industries. This would address a number of current needs: the need for increased foreign direct investment; the need to assert the rights of people living upon a land; the need to facilitate the creation of jobs; the need for increased foreign currency reserves; and the need to support national and export food-market expansion. Currently the infrastructure for storage, transportation and processing is limited; therefore, access to national and international markets is also limited. Supporting rural farmers to become more productive will have a synergistic effect through broadening availability of options for storage, transportation and processing of produce.
The development of Ethiopian agriculture is key to providing national food security, and to achieving the potential of the country and its residents. High levels of malnutrition and childhood stunting are examples of how that potential is being held back by issues of food insecurity. The Ethiopian government recognizes these challenges and has made many bold moves to address them. However, the push for mass foreign agricultural investment may be worth reconsidering: will export-orientated operations will meet the needs of the country? Interestingly wheat is now one of the country's largest imports. Relying on international food markets, amidst volatility and unexpected price spikes, may further increase food insecurity.
Rural agricultural development, along with a shift from land-leases to up-stream agricultural industries, are two potential, complementary, alternatives. In either case, regulation of land-leases is required, along with regulation and enforcement of environmental protection and contractual agreements.