IPS | 28 September 2012 |
Português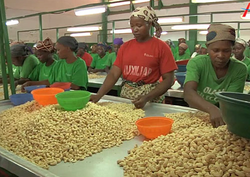 Olam International, an India-based multinational agribusiness company, is developing an outgrower scheme on a giant 20-year, 850,000 hectare concession it has secured not far from the port of Beira, Mozambique.
By Terna Gyuse
ARUSHA, Tanzania - Investment in rural infrastructure and support for Africa's millions of small-scale farmers have increased in the past decade. But as these farmers begin to see increased yields, the question of better access to markets comes to the fore.
Kanayo Nwanze, president of the International Fund for Agricultural Development, says rural Africa is ripe for investment, presenting unprecedented opportunities.
"Africa has the world's fastest-growing population and the highest rate of urbanisation in the world. The middle class is growing across the continent, driving up demand for food," Nwanze told delegates at the 2012 African Green Revolution Forum taking place in Arusha, Tanzania Sep. 26-28.
African governments, their development partners and agribusiness people agree that the keys to increased production include better seed and fertiliser, as well as improved infrastructure like roads and irrigation.
But many small-scale producers lack storage, processing or transport facilities to get what they harvest off their farms. One of the ways that private sector investment can connect these smallholders to markets is through outgrower schemes, in which a company contracts with small farmers to supply agricultural produce.
In Mozambique, Olam International, an India-based multinational agribusiness company that does business with two million farmers across two dozen African countries and beyond, is busy developing an outgrower scheme on a giant 20-year, 850,000 hectare concession it has secured not far from the port of Beira.
"There was nothing there four years ago," M. D. Ramesh, the company's manager for East Africa operations, told IPS. "Now we have 60,000 farmers working on 60,000 hectares."
Olam provides farmers with credit, seed and fertiliser, and then buys their harvest when it comes in.
The initial problem was that many smallholders had no clue how to grow cotton. Olam organised mobile demonstrations to train locals to grow the crop. The results, said Ramesh, are not yet optimal, but harvests are up from 300 kilogrammes per hectare at the start, six years ago, to 600 kg/ha now. To put this in perspective, Olam's more experienced outgrowers in Zimbabwe routinely harvest 1,200 kgs of seed cotton per hectare.
"Realise that we're working with no infrastructure, no telephones, no banking – so everything is a cash transaction: it's a challenge," said Ramesh.
But he is confident that by 2015, 100,000 hectares will have been brought into production, with 120,000 farmers producing 60,000 to 70,000 tonnes of seed cotton a year, which will be worth some 40 million dollars after processing.
"The largest risk with small-scale farmers is that when you give credit, there's no recourse if something goes wrong… and it often does go wrong, but over time a mutual dependence develops between both sides," Ramesh said.
Carter Coleman, CEO of Agrica, operates a very different company – on a very different scale – in Tanzania, but he agrees on the subject of risk. "Agriculture is capital-intensive, high-risk, and provides returns over the long term. Many investors hear that and head for the door."
Not Coleman. Agrica was founded in 2005, with a vision of setting a standard for sustainable, commercial agriculture in East Africa. Its only project so far is the 5,800-hectare Kilombero rice plantation in Tanzania, established on the long-abandoned site of a joint Tanzania-North Korea farm project.
Kilombero Plantations Limited or KPL is a state-of-the art facility practicing zero tillage, airborne fertilisation, water-efficient central pivot irrigation and a mill, powered by a mini-hydro plant – all in line with the philosophy of its owners, Agrica.
But it is also working to help 5,000 of its smallholder neighbours shift from subsistence to surplus production by 2016.
Two years ago, KPL brought in an expert from India to train a handful of their neighbours, small-scale farmers in the Kilombero Valley, in the Smallholder System for Rice Intensification.
The techniques, developed years ago by a Jesuit priest in Madagascar, involve systematically planting carefully-chosen seeds on a 25 x 25 centimetre grid; this allows farmers to triple their yields, while reducing the amount of seed used, as well as the time needed to plant and weed the fields.
Fifteen farmers were trained, each testing the new methods out for themselves for a season on just 30 x 30 metres. It worked brilliantly, and the next year 365 more families were trained – with members of the initial group each expanding their SRI-planted area to about half a hectare.
The increased volumes of rice caused a bottleneck at harvest time – there were simply not enough neighbours to hire to bring in the harvest.
"We brought in two mini combine harvesters from Vietnam to help. Each one can harvest an acre in three hours, which would take three days by hand," Coleman said. "And it's 20 percent cheaper for the farmer. Now we want a bunch more."
The outgrowers are happy, but KPL is for the moment a victim of its outgrowers' success. The company buys the unprocessed rice at market prices, but while the price for paddy rice has doubled since last year to 466 dollars per tonne, the going rate for milled rice that KPL sells has risen by only about 40 percent, leaving the company with no margin on what it eventually delivers to Dar es Salaam, Tanzania's capital.
Coleman also explained several ways that poor infrastructure hurts the company. Hauling fuel in over the unpaved road that links the Kilombero Valley to the outside world during the rains is a nightmare.
"We can't bring a tanker in. We have to transfer it to barrels, and load them onto a cart hitched to a tractor. And we need to send another tractor along to pull the first one out of the mud when it gets stuck. It's like a scene out of World War I."
At one point during the rainy season last year, the road was completely impassable, cutting the valley's thousands of inhabitants off from the outside for two months.
KPL and its outgrowers alike could use better support for agricultural research – to guard against pests, for example.
Outgrowers can also be subjected to a punitive five percent levy on their turnover by the district authority, though farmers get nothing tangible in return. The levy can wipe out an entire year's profit.
"Everyone talks about government commitment, but the top-level commitment doesn't translate down through the inert bureaucracy to deliver what's been promised," Coleman said.
Addressing a plenary session earlier on Sep. 27, Nwanze said that despite increasing attention and investment, he saw the situation with Africa's agriculture sector as a case of the glass being half empty.
"Where are Africa's roads, water supply, electrification, storage facilities to reduce post-harvest losses? Where is the good governance to manage increased levels of funding?" he asked.
"The idea that the glass is half full leads to complacency and sometimes to mental paralysis. So I'm not going to tell you how well we have done or are doing. I'm going to challenge you to do more."