AKP | 27 September 2012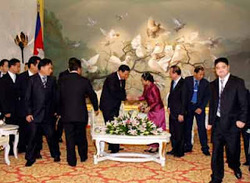 Yang Daoxi, vice chairman of Guangxi Zhuang Autonomous Region, shakes hand with Cambodia's Deputy Prime Minister Men Sam An, November 2011.

By SOKMOM Nimul

Three Memoranda of Understanding (MoUs) on investment in mineral exploration and sugar cane plantation in Cambodia were signed last weekend in China's Guangxi province at the Forum on Potential Investment and Business Opportunities in Cambodia.
Mr. Yunter Chao, Director General of Khmer Resources Investment Holding Group Co., Ltd.. (KRIHG), who was among the signatories of the MoUs, said that these three MoUs had a total value of US$2,000 million.
It is a comprehensive cooperation agreement to strengthen and expand trade cooperation in the private sector, he said.
Mr. Chao Yunter also informed the Chinese investors and entrepreneurs of mineral resource potential, as well as social and political stability in Cambodia.