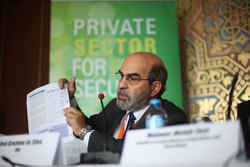 FAO genel direktörü Jose Graziano da Silva
Birleşmiş Milletler Gıda ve Tarım Organizasyonu (FAO) genel direktörü Jose Graziano da Silva ve Avrupa Kalkınma ve Yatırım Bankası (EBRD) başkanı Suma Chakrabarti'nin imzaladığı ve Wall Street Journal'de 6 Eylül 2012'de yayımlanan makale (1) ile şoka girdik ve rencide edildik. Makalede, küresel gıda üretiminin asıl motoru olarak özel sektörün, hükümet ve sosyal organizasyonlar tarafından kucaklanması isteniyor.
Özellikle Doğu Avrupa ve Kuzey Afrika'ya refere ederken, uluslararası ajanların bu iki etkili başkanı özel sektör yatırımlarının ve toprak gaspının dünya çapında artması için açık bir çağrıda bulunuyor. Özel sektörün verimli ve dinamik olduğunu söyleyerek şirketleri "toprağın kendisinde çifte yatırım" yapmaya çağırıyorlar. Bu arada, köylüleri ve tarımsal yatırımları "geri bıraktığı" ve elimine edilmesi gerektiğini düşündükleri kalan birkaç politikayı gözardı ediyorlar. İşlerini yürütmek için, büyük ölçekli tarım işletmelerinin daha da büyümesini kolaylaştırmak için hükümetleri zorluyorlar. Bu makale FAO ve EBRD ortaklığında 13 Eylül'de İstanbul'da düzenlenen konferans kapsamında yayımlandı. Bu konferans tarım endüstrisinde yeralan şirketlerin ve karar vericilerin biraraya geldiği en geniş ve en önemli toplantı olarak görülüyor.

Graziano da Silva and Chakrabarti, makalede konu tarım ve gıdaya geldiğinde gerçeği gizleyen önyargılı hükümlerde bulunuyor. Rusya, Ukrayna ve Kazakistan'ı "1990ların tarımsal çöplüğünden" "öncü tahıl ihracatçılarına" dönüştüren tarım endüstrisinin başarılı örnekleri olarak gösteriyorlar. Bu üç ülkenin resmi istatistiklerinin küçük aile çiftçileri ve köylülerinin büyük tarım şirketlerinden daha verimli olduklarını hiçbir zaman söylemiyorlar.

Köylüler ve küçük çiftçiler, özellikle kadınlar, Rusya'nın tarımsal üretiminin yarıdan fazlasınında söz sahibidirler, fakat tarımsal toprakların ancak dörtte birine sahiptirler. Ukrayna'da toprakların %16'sına sahipken ürünün %55'ini, Kazakistan'da ise toprağın yarısına sahipken, ürünün %73'ünü sağlarlar. Gerçek olan, bu ülkelerin köylü ve küçük çiftçiler tarafından beslendiğidir. Ve bu, tüm dünya için böyledir. Resmi rakamların temin edilebildiği yerlerde, örneğin AB, Kolombiya ve Brezilya, veya Asya, Afrika ve Latin Amerika'da yapılan çalışmalarda köylü çiftçiliği büyük ölçekli tarım endüstrisine oranla çok daha verimli olduğu ortadadır.

FAO genel direktörünün iddia ettiğinin aksine, dünyayı besleme kapasitesine sahip olanlar, bu dünyada yaşayan kadın ve erkek çiftçiler ile köylülerdir. Tarım endüstrisinin genişlemesi, sadece yoksulluğu şiddetlendirdi, kırsal alandaki onurlu yaşam potansiyelini tahrip etti, kirliliği ve çevresel tahribatı artırdı, köle işgücü ile gıda ve iklim krizi musibetlerini başımıza sardı.

Sosyal hareketler, köylüler ve çiftçiler için bir FAO genel direktörünün köylü çiftçiliğini tahrip etmek ve toprak gasbını artırmak istemesi kabul edilemez ve hatta anlaşılamaz bir durumdur.

Böyle bir durum özellikle problem yaratmaktadır, çünkü:
1- La Via Campesina ve diğer organizasyonlar toprak gaspına karşı toplulukların korunması hakkında FAO'nun gönüllü anahatlarını oluşturmada üç yıllık dikkatli ve sıkı bir çalışma yapmıştır.
2- Graziano da Silva FAO Genel Direktörlük kampanyası sırasında köylü tarımını onayladığını ve öne çıkaracağını belirtmiş, küçük çiftçilerin gıda üretiminde kritik rolünü defalarca tekrar etmiştir.

Graziano da Silva ve Chakrabarti'nin kullandığı dil de oldukça saldırgan. "Bu toprakları para ile gübrelemek" ve "dünyadaki açlığı gidermek için hayatı kolaylaştırmak" ifadeleri şu iki konuyu sorgulamamızı gerektiyor:
FAO gerekli özeni göstererek ve büyük tarım şirketlerinden bağımsız olarak görevini ifa edebilecek mi ?
Birleşmiş Milletler'in kendisine verdiği açlığı yoketme ve kırsal toplulukların yaşam koşullarını geliştirme görevlerini yerine getirebilecek mi?

Genel Direktörü, "göreceli yüksek oranlı korumaları, uygun sulamanın olmamasını, küçük ve ekonomik olmayan çiftlikleri" tarımsal üretimin gelişmesine engel olarak görürken, FAO'nun "Uluslararası Aile Çiftçiliği Yılı"ndan ne kasdettiğini merak ediyoruz. Bu vizyon ve FAO'nun hırslı yatırımcıların talep ve çıkarlarına olan bağlılığı, son yıllarda çiftçi organizasyonlarının FAO ile yaptığı uzlaşma amaçlı çalışmaları baltalamaktadır. Aynı zamanda FAO'nun köylü tarımı ve aile çiftçiliğinin küresel gıda krizine çözüm olarak neden kesin ve etkili bir eylem koymadığı, bunun yerine bir kez daha ulusötesi bankaları ve şirketleri güçlendirdiği sorusu gündeme gelmektedir. (2) Bu planlar topraklarını endüstriyel mega çiftliklere dönüştürdüğünde köylü aileler nereye gidecek?

FAO'nun misyonunu terketmesinin yanısıra, EBRD'nin toprak gaspı yatırımlarını teşvik ederek ve bundan kar sağlayarak tarımın büyük şirketlerce devralınmasında bu kadar aktif bir rol oynaması da dikkate değer önemli bir diğer konudur. Banka faaliyetlerinin Kuzey Afrika'ya yayılması, EBRD'nin tutumunu da daha da tehlikeli bir hale sokmaktadır.

Tarım ve gezegen için ihtiyaç duyulan şey Chakrabarti ve Graziano da Silva'nın önerdiklerinin tam tersidir. İnsanlığın ve açlıktan kıvrananların kırsal kesimlerin tarım-kültürlerine ihtiyaçları vardır. Kırsalda yüzyıllardır geliştirilen bu tarım-kültürü dünya nüfusunun yarısını temsil eder, köylü tarımının daha etkili ve verimli olduğu bilgisiyle korunması ve geliştirilmesi gerekir. Bu tarım-kültürü dünya toplam gıda arzının en azından yarısını sağlamaktadır, kırsal kesimlerde iş sahası yaratmaktadır ve aynı zamanda gezegeni soğutmaktadır.

Köylü ve yerel halkların yaşamları ve onların gıda üretim sistemleri, küçük bir elit grubun mega karlarına yeni bir kaynak yaratmak amacıyla yokedilemez. Ekilebilir alanları ve toprakları asıl sahipleri olan kırsal halka teslim eden kapsamlı ve etkili tarım reformlarına ihtiyacımız var. Toprakların ticarileştirilmesi ve gaspı durdurulmalıdır. Endüstriyel tarıma ihtiyacımız yok; köylü ve yerel halkların, toplulukların onur ve saygıyla çiftçilik yapmalarına ihtiyacımız var.

Küçük çiftçiler dünyayı besler !
Endüstriyel tarım dünyayı gaspeder !

La Via Campesina
GRAIN
Les Amis de la Terre International (FoEI)
Coordinadora Latinoamericana de Organizaciones del Campo (CLOC) MMM - Marche mondiale des femmes
ETC group
Latin American Articulation of Movements Toward ALBA
A.E.L. Asociación Ecológica de Lanús , Argentina
Acción Ecológica, Ecuador
Acción por la Biodiversidad, Argentina
Alianza para la Soberanía Alimentaria de América Latina y El Caribe
Alianza Social Continental
Amigos da Terra Brasil / NAT
Amigos de la Tierra América Latina y el Caribe – ATALC
Amigos de la Tierra Argentina
Amigos de la Tierra España
Anywaa Survival Organisation-ASO
Articulacao Nacional de Agroecologia (ANA), Brasil
ASIAN PEASANT COALITION (APC)
ATTAC – Argentina
Bangladesh Krishok Federation
Biofuelwatch, UK/US
BIOS ARGENTINA
Biowatch South Africa
Bread for all, Switzerland
Bread for the World, Germany
Cátedra Libre de Soberanía Alimentaria de la Universidad Nacional de La Plata, Argentina
Cecilia Avalos
CEIBA-Amigos de la Tierra Guatemala
Censat Agua Viva–Amigos de la Tierra, Colombia
Centro de Protección a la Naturaleza, CeProNat, Argentina
Centro Ecologista Renacer, Argentina
CESTA-Amigos de la Tierra, El Salvador
Charles La Via, Francia
Claudia Korol. Equipo de Educación Popular Pañuelos en Rebeldía, Argentina
CLimat et Justice Sociale de Ginebra, Suiza
COB (Corriente de Organizaciones de Base) LA BRECHA, Argentina
COECOCEIBA-Amigos de la Tierra, Costa Rica
Collectif pour la Défense des Terres Malgaches - TANY
Corporate Europe Observatory
Diálogo 2000 - Jubileo Sur, Argentina
Eastern and Southern Africa small-scale Farmers Forum(ESAFF), Zambia
ECA Watch Austria
Ecologistas en Acción, Estado Español
Ecos de Saladillo, Buenos Aires, Argentina
Environmental Rights Action (ERA)/ Friends of the Earth, Nigeria
Fahamu - Networks for social justice
FASE (Federação de Órgãos para Assistência Social e Educacional) - Brasil
Focus on the Global South
Food & Water Europe
Food & Water Watch, EEUU
Foro Ecologista de Paraná, Argentina
Friends of the Earth Australia
Friends of the Earth Canada
Friends of the Earth EWNI
Friends of the Earth Togo
Fundación Mundubat-Mundubat Fundazioa, País Vasco
Gaia Foundation, UKADOLFO de Argentina solamente.
Guamina – Les Amis de la Terre Mali
Glenn Ashton, Director, Ekogaia Foundation, Cape Town, South Africa
Global Forest Coalition
Global Responsibility – Austrian Platform for Development and Humanitarian Aid
GroundWork-Friends of the Earth South Africa
Héloïse CLAUDON, Chargée de mission, Association Combat Monsanto
Ingrid Kossmann, Marcos Paz, Argentina
Instituto de Estudios Ecologistas del Tercer Mundo, Ecuador
Ivan R Artunduaga
JA! Justica Ambiental-Friends of the Earth Mozambique
Jean-Denis Gauthier, France
Kusamala Institute of Agriculture and Ecology [KIAE], Malawi
Les Amis de la Terre France
Local to Global Advocates for Justice
Maan Ystävät-Friends of the Earth Finland
Marcha Mundial de las Mujeres de Perú
Maudesco-Friends of the Earth Mauritius
Milieudefensie-Friends of the Earth Netherlands
Movimiento Madre Tierra-Amigos de la Tierra Honduras
Movimiento Mundial por los Bosques Tropicales (World Rainforest Movement)
Movimiento político SolidaritéS, Ginebra, Suiza
NAPE-Friends of the Earth Uganda
Never Ending Food
Nicolas Sersiron vice président, Cadtm, Francia
NOAH-FoE Denmark's Food and Agriculture Group
Observatorio Latinoamericano de Conflictos Ambientales – OLCA
Otros Mundos AC/Amigos de la Tierra México
Plataforma de Direitos Humanos Econômicos, Sociais, Culturais e Ambientais - Plataforma Dhesca
Brasil
Plataforma Interamericana de Derechos Humanos, Democracia y Desarollo – PIDHDD
Plataforma Rural, Estado Español
Pro Natura - Friends of the Earth Switzerland
Pro Public- FoE Nepal
Re:Common
RECOMA (Red Latinoamericana contra los Monocultivos de Árboles)
Red de Coordinación en Biodiversidad, Costa Rica
Red Latinoamericana de Zurich (RLZ)
Red Manglar Internacional (RMI)
Red Nacional de Acción Ecologista, Argentina
Rede Social de Justiça e Direitos Humanos, Brasil
REDES-Amigos de la Tierra, Uruguay
Rettet den Regenwald, Alemania
Salva la Selva, España
SAVIA - Escuela de Pensamiento Ecologista, Guatemala
Silvana Buján, Mar del Plata, Argentina
SOBREVIVENCIA-Amigos de la Tierra Paraguay
Solidaridad Suecia-América Latina (SAL)
Südwind, Austria
Terra de Direitos, Brasil
Union Paysanne (miembro de la región norteamericana de la VC)
Veterinarios sin Fronteras
World Family

2 Örneğin, bakınız, James Cusick, "We'll make a killing out of food crisis, Glencore trading boss Chris Mahoney boasts", The Independent, London, 23 August 2012,
http://www.independent.co.uk/news/world/politics/well-make-a-killing-out-of-food-crisis-glencore-trading-boss-chris-mahoney-boasts-8073806.html
; Tom Bawden, "Barclays makes £500m betting on food crisis", The Independent, London, 1 September 2012,
http://www.independent.co.uk/news/business/news/barclays-makes-500m-betting-on-food-crisis-8100011.html
; and Peter Greste, "Rising food prices hit Nairobi slums", Al Jazeera, Doha, 6 September 2012,
http://www.aljazeera.com/video/africa/2012/09/201296195748591887.html
.

Çeviren : Tülay Ararat