The New Republic Liberia | 13 September 2012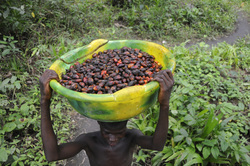 Sime Darby and the other palm oil companies were assigned the right to farm vast areas of land used for centuries by local communities for subsistence farming and cemeteries and sacred sites.
Sime Darby Plantation Liberia (SDPL) Inc. has denied awarding any contract to Green Advocate as alleged by a Senior Government official.
On September 3, this year, the Superintendent of Sinoe County, Milton Teahjay, accused Sime Darby of awarding a consultancy contract to Green Advocate head Alfred Brownell.
"Sime Darby issued a media statement today vehemently denying any allegations on impropriety in their relations with Counsellor Alfred Brownell and Green Advocates. This statement is in response to the statement made by the Hon. J. Milton Teahjay," the statement distributed in Monrovia said.
The statement said, "SDPL is working hard to ensure that all its policies and standards on sustainable agriculture and practices, particularly with regards to social and environmental best practices, are observed meaningfully and in accordance with local cultures, laws and beliefs. The company believes in working together and engaging with the local communities, civil groups and NGOs, either with the organization directly or their representatives."
Teahjay appeared on state radio to refute statement made by Green Advocate and other media houses in Liberia following compliant by some residents of Sinoe county that Golden Veroluem(an oil palm company operating in that county) was practicing slavery and clearing their land without regard to the laws. Golden Veroleum operates in Sinoe and Teahjay was refuting these allegation made by GA and the citizens.
"SDPL Inc's interaction with Green Advocates (GA) and other NGOS is on the Project Affected Communities (PAC). As a legal representative of these communities, Green Advocates works with these affected communities to ensure that all the issues raised by the PAC are adequately addressed and sustained."
The statement further said, "the PAC had raised a number of issues to SDPL, whereby these regular and direct engagement sessions with communities are a part of SDPL's own internal policy and adhering to the FPIC guidelines under the New Planting Procedures (NPP) of the RSPO. The entire FPIC process with PAC is also co-ordinated and monitored by the Land Commission, a special body formed by the GOL to assist SDPL to manage the social issues effectively."
It added, "SDPL highly respects and appreciates GA's role in facilitating our engagement with local communities on a multi stakeholder basis. We are concerned that the false allegations expressed by the Supt of Sinoe County may derail that process and undermine the prospects for economic transformation through large scale oil palm plantation development in Liberia.
---
FT.com | 14 September 2012
Palm oil: Companies have trouble securing land

By Xan Rice
For a glimpse into the future of Liberia's countryside, take a drive north from the capital Monrovia, cross a few swollen brown rivers, and watch the thick green expanse of bush appear – and then disappear.

Instead of trees, there is farmland planted with neat rows of what from afar look like the prickly tops of giant pineapples. These young oil palms belong to Malaysia's Sime Darby, the world's largest producer of certified sustainable palm oil.

In 2009, the company signed a 63-year agreement with the government for 220,000 hectares of land to grow oil palms. Sime Darby was not alone. Golden Veroleum, controlled by the Singapore palm oil company Golden Agri through its investment in the New York based Verdant Fund, concluded an agreement for a similar amount of land. Meanwhile a British company, Equatorial Palm Oil, has a 89,000-hectare concession.

Rubber may have been the backbone of the economy for much of the past 80 years but, if all goes well, palm oil will become a far bigger industry, employing tens of thousands of people. Despite hundreds of millions of dollars invested by the various companies, that remains an "if".

Sime Darby, for example, has struggled in its efforts to secure land to plant crops. By August, it had only about 3,200 hectares planted, and much of that on existing plantation land previously used for rubber. Meanwhile, it has 400,000 seedlings to be transplanted soon or spoil.
"We need to be growing at the rate of 10,000 hectares a year to be economically viable, which is not happening," says Carl Dagenhart, Sime Darby's head of corporate communications for Europe and Africa. "Securing land has been a gruelling process."

Environmental activists trace the problems back to the original concession process. While Sime Darby and the other companies were assigned the right to farm vast areas, most of the land was not unencumbered. Consisting of non-primary forest and bush, it has been lightly used for centuries by local communities for subsistence farming and also contains cemeteries and sacred sites.

A study of the concession agreements by Columbia University researchers concluded that the negotiation process did not respect the principle of Free, Prior and Informed Consent (FPIC) for indigenous communities, which were "generally unaware" that the foreign companies were coming in until after the agreements had been signed. The study also said compensation was too low.

"The government essentially took land from poor people and said to the multinationals that they could use it," says Alfred Brownell, head of the Association of Environmental Lawyers of Liberia.

In practice, it was not that simple, as Sime Darby found out. When it started clearing land, local villagers raised concerns over environmental degradation, as well as the destruction of their sacred areas, and complained to the Roundtable on Sustainable Palm Oil, an industry body.

Company representatives entered into talks with the affected communities to see how the situation could be resolved. President Ellen Johnson Sirleaf then travelled to the site in January, clashing with activists, and warning villagers not to undermine the government.

Since then, matters have improved. Sime Darby agreed to hire 600 additional workers from local villages, bringing its permanent workforce to about 3,000. The lowest-paid workers get about $5.51 a day, a decent salary by local standards. "The work is hard," says Jumah Seh, a 26-year-man hired in June to cut away brush in the fields. "But having the company here is good for Liberia because there are no jobs."

Sime Darby is building apartments for its workers, and runs schools and a clinic. Under an outgrower scheme, local farmers will be encouraged to plant their own trees, using Sime Darby inputs, with the company buying the harvest.

Mr Dagenhart acknowledges mistakes were made early on. "The complaint that we did not communicate well enough with the communities – that's probably fair. From a cultural standpoint, there is a lot we can learn."

Sime Darby is working with the UK-based Forest People's Programme and local activists to improve its consultation process.

Golden Veroleum's operations are in the remote south-east of the country. It says its biggest obstacle so far has been the poor roads, which have made it difficult to transport both equipment and seedlings. The company has more than 2,000 permanent employees, and plans to have 5,000 hectares of land planted with oil palms by the end of the year.

Henry Harmon, vice-president for government affairs, says there have been some "small issues" in negotiating the right to land.
Even so, there have been protests as recently as early September by villagers who claim the company has acting improperly. Mr Harmon denies this.

Neither Sime Darby nor Golden Veroleum has reached harvesting stage. But Equatorial Palm Oil, listed on London's junior stock market Aim, has and operates a five-tonne-an-hour mill on its plantation. Besides its 89,000-hectare concession, it is in talks with communities for a further 80,000 hectares, says Michael Frayne, executive chairman.

"You have to spend a lot of time talking to the local people," says Mr Frayne. "It's gone OK for us. The areas in which we are working are fairly sparsely populated and the soil is good."