Moçambique para todos | 12 de Setembro de 2012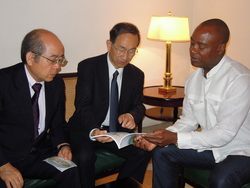 JICA officials and Mr. Jose Pacheco, the Mozambique Minister of Agriculture, meeting in Brazil in June, 2012.

Trata-se de um instrumento financeiro que será subscrito entre o Ministério da Agricultura e a Gapi-SI e tem por objectivo testar modelos de investimento e financiamento a pequenas empresas do sector de agro negócios no Corredor de Nacala.

O memorando regulador deste Fundo será assinado na Sede do Governo da Província de Nampula sob o testemunho dos seus principais parceiros e que são as agências de apoio ao desenvolvimento dos Governos do Japão (JICA) e do Brasil (ABC).
O Pro-Savana é um programa que visa o desenvolvimento agrícola e rural na região do Corredor de Nacala, com o objectivo de melhorar a competitividade do sector, em termos de segurança alimentar, aumento da produtividade dos pequenos e médios produtores e a geração de excedentes agrícolas exportáveis.
O Pro-Savana abrange uma das seis regiões definidas como prioritárias no Plano Estratégico para o Desenvolvimento do Sector Agrário em Moçambique (PEDSA ). Conta com o apoio dos Governos do Japão, através da Agência Japonesa de Cooperação Internacional (Japanese International Cooperation Agency – JICA) e do Brasil, através da Agência Brasileira de Cooperação (ABC).
O Fundo para a Iniciativa de Desenvolvimento do Pro-Savana que irá agora ser estabelecido tem por objectivo testar modelos de investimento e financiamento que assegurem um desenvolvimento inclusivo na regiãodo Corredor de Nacala. Através deste Fundo os seus subscritores propõem-se criar condições para que os pequenos e médios agricultores tenham benefícios dos futuros grandes investimentos previstos na região do Corredor de Nacala, em particular no sector dos agro-negócios.
Para financiar alguns dos futuros investimentos previstos no âmbito do Pro-Savana, a Fundação brasileira, Getúlio Vargas, promoveu a constituição do Fundo para o Desenvolvimento do Corredor de Nacala.
Este Fundo foi lançado pelo director da Fundação Getúlio Vargas (FGV), César Campos, no dia 20 de Julho deste ano, em Maputo, na presença do Primeiro-Ministro, Aires Aly e do Vice-Presidente do Brasil, Michel Termer, do ministro da Agricultura, José Pacheco, representante da FAO no Brasil, Hélder Muteia, bem como, empresários, entre outras individualidades.
O Ministério da Agricultura, com o apoio da JICA e reconhecendo o papel da Gapi-SI no desenvolvimento do empresariado nacional, decidiram juntar recursos e competências preparando a implementação do Pro-Savana através da presente iniciativa especificamente dirigida às pequenas e médias empresas e aos agricultores de pequena escala.
A Gapi-SI é uma Instituição Financeira de Desenvolvimento, de natureza pública - privada. Tendo como missão "conceber e implementar programas e projectos que, de forma integrada, estimulem a expansão, diversificação e consolidação do tecido empresarial nacional e do sistema financeiro moçambicano" a Gapi-SI actua geralmente como um parceiro estratégico do Governo de Moçambique, em programas de desenvolvimento empresarial.