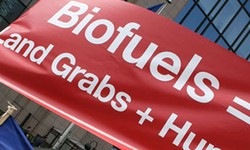 "The (European) Commission is of the view that in the period after 2020, biofuels should only be subsidized if they lead to substantial greenhouse gas savings... and are not produced from crops used for food and feed," the draft says. (
Photo: Friends of the Earth)
Reuters | Mon Sep 10, 2012

Exclusive: EU to limit use of crop-based biofuels - draft law
(Reuters) - The European Union will impose a limit on the use of crop-based biofuels over fears they are less climate-friendly than initially thought and compete with food production, draft EU legislation seen by Reuters showed.
The draft rules, which will need the approval of EU governments and lawmakers, represent a major shift in Europe's much-criticized biofuel policy and a tacit admission by policymakers that the EU's 2020 biofuel target was flawed from the outset.
The plans also include a promise to end all public subsidies for crop-based biofuels after the current legislation expires in 2020, effectively ensuring the decline of a European sector now estimated to be worth 17 billion euros ($21.7 billion) a year.
"The (European) Commission is of the view that in the period after 2020, biofuels should only be subsidized if they lead to substantial greenhouse gas savings... and are not produced from crops used for food and feed," the draft said.
A Commission spokeswoman said the EU executive would not comment on the details of leaked proposals.
The policy u-turn comes after EU scientific studies cast doubt on the emissions savings from by crop-based fuels, and following a poor harvest in key grain growing regions that pushed up prices and revived fears of food shortages.
Under the proposals, the use of biofuels made from crops such as rapeseed and wheat would be limited to 5 percent of total energy consumption in the EU transport sector in 2020.
Crop-based fuel consumption currently accounts for about 4.5 percent of total EU transport fuel demand, according to the latest national figures for 2011, ensuring that there will be little room to increase current production volumes.
Such a limit will throw into doubt the EU's binding target to source 10 percent of road transport fuels from renewable sources by the end of the decade, the vast majority of which was expected to come from crop-based biofuels.
In an attempt to make up the shortfall, the European Commission wants to increase the share of advanced non-land using biofuels made from household waste and algae in the EU's 10 percent target.
"It is appropriate to encourage greater production of such advanced biofuels as these are currently not commercially available in large quantities, in part due to competition for public subsidies with now established food crop based biofuels," the draft legislation said.
The Commission has proposed that the use of such advanced fuels should be quadruple-counted within the EU's 10 percent target, in an attempt to at least meet it on paper.
But with commercial production volumes expected to remain low up to 2020, it is doubtful whether the goal can be met.
BIODIESEL BLOW
The proposals are contained in long-awaited EU plans to address the indirect land use change (ILUC) impact of biofuels, a subject that has split officials, biofuel producers and scientists, delaying legislative proposal for almost two years.
ILUC is a theory that states that by diverting food crops into fuel tanks, biofuel production increases overall global demand for agricultural land. If farmers meet that extra demand by cutting down rainforest and draining peatland, it results in millions of tonnes of additional carbon emissions.
The draft law includes new ILUC emissions values for the three major crop types used to produce biofuels: cereals, sugars and oilseeds. These values must be included when calculating emissions savings from biofuels under an EU fuel quality law designed to encourage fuel suppliers to cut emissions from road transport fuels by 6 percent by 2020.
While low values for ethanol made from cereals and sugars are expected to have little market impact, a much higher value for oilseeds is likely to exclude most biodiesel made from rapeseed, soybeans and palm oil from counting towards the fuel suppliers' targets.
The Commission says its proposal will protect existing investments until 2020, but biodiesel producers fear that by removing any incentive for fuel companies to use biodiesel, it will put the future of the entire sector in doubt.
"Three years after the EU made biofuels a central plank of its policy to promote renewable energies in transport, the Commission's current proposal threatens an industry that arose as a response to its policies, supports 50,000 jobs and would have provided the next generation of biofuel technologies," said Jean-Philippe Puig, CEO of Sofiproteol, which owns the EU's largest biodiesel producer.
Environmental campaigners welcomed the proposal to limit the use of crop-based fuels, but said the plans should have gone further.
"The good news is that this proposal, if adopted, would stop further expansion of current types of unsustainable biofuels, which is an important step. But the bad news is that it fails to do anything about the current volumes of these fuels," said Nusa Urbancic, clean fuels campaigner for green transport lobby T&E.
If confirmed, the rules are expected to boost European consumption of ethanol, which currently accounts for just over 20 percent of the EU biofuel market, compared with biodiesel's 78 percent share.
But with diesel cars accounting for about 60 percent of Europe's fleet and rising, it is unlikely that increased ethanol consumption will be able to completely offset the likely decline in biodiesel consumption.
The International Council on Clean Transportation has predicted that any emissions savings from the EU's biofuel policy are likely to come from ethanol, while crop-based biodiesel has a worse carbon footprint than normal diesel. ($1 = 0.7821 euros)
(Editing by Rex Merrifield and James Jukwey)