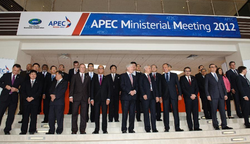 APEC Ministers meeting in Vladivostok. During a side meeting, the Peruvian and Malaysian foreign ministers discussed a project to allocate 70,000 ha of land in Peru to Malysian corporation Sime Darby for the development of oil palm plantations.
Business Times | 7 September 2012

By Mustapha Kamil
VLADIVOSTOK: Malaysian conglomerate Sime Darby Bhd is waiting for final approvals from the Peruvian government to start planting oil palm in the Latin American state.
Foreign Minister Datuk Seri Anifah Aman said Peru has identified 70,000ha where Sime Darby could undertake the project.
He said the company is expected to invest between US$150 million and US$300 million (RM467.4 million and RM934.9 million) in the venture.
Anifah said this after meeting his Peruvian counterpart, Rafael Roncagliolo, on the sidelines of the ongoing Asia-Pacific Economic Cooperation ministerial meetings, here, yesterday.
He said Peru wants to use such development projects to help it rid the nation of the increasingly serious drug problem after studying Malaysia's successful strategy in the past in instilling a sense of belonging among the people in rural areas and combating the Communist insurgency menace.
Sime Darby is one of the largest plantation companies in Malaysia. It is also involved in property development and the automotive sector.
---
The Star | 7 September 2012

By WONG SAI WAI
VLADIVOSTOK (Eastern Russia): Peru has offered Malaysian plantation giant Sime Darby 70,000ha for oil palm cultivation in a project that could be worth up to US$300mil (RM934bil), Foreign Minister Datuk Seri Anifah Aman said.
He said Sime Darby was now studying the offer as it was a major investment.
Anifah said this was the crux of the discussion between him and his Peruvian counterpart Rafael Roncagliolo Orbegoso on the sidelines of the 24th Apec Ministerial Meeting here yesterday.
"Peru asked for our assistance on this matter because they wanted to use oil palm plantations to combat illicit drug farms.
"They are hoping to convince their people to venture into the lucrative oil palm industry instead of growing illicit drug plants," Anifah told Malaysian journalists.
He revealed that a similar offer was made by Colombia to Malaysia to provide expertise in oil palm cultivation as a commercial venture to replace such illicit farms.
Peru also wanted to learn from Malaysia's success in dealing with communist terrorists through the setting up of plantations and land schemes like Felda and Felcra, said Anifah.