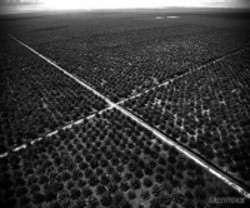 Survie | publié le 3 septembre 2012 (rédigé le 1er juillet 2012)

Sierra Leone
Bolloré étend son empire agricole
Le groupe Bolloré ne cesse d'étendre son influence en Afrique et se tourne désormais vers les terres arables de la Sierra Leone.
Boulimique, la multinationale françai­se règne déjà sur des dizaines de milliers d'hectares de plantations d'hévéa et de palmier à huile au Cameroun (33 500 hectares), au Liberia (13 500 ha) ou encore en Côte d'Ivoire (23 000 ha) via la holding Socfinaf qu'elle contrôle partiellement.
En 2011, la Socfin Agricultural Company (SAC), filiale de Socfinaf, a signé un bail de cinquante ans portant sur 6 500 hectares avec le ministre de l'Agriculture, de l'exploitation forestière et de la Sécurité alimentaire de la Sierra Leone, le Dr. Sam Sesay, afin de développer une plantation de palmier à huile et d'hévéa [1]. La concession est située dans la chefferie de Malen, dans la région de Pujehun (sud-est du pays).
La SAC prospecte de plus dans la chefferie de Bum (province de Bonthe) et de Lugbu (province de Bo) afin d'obtenir des terres supplémentaires, Bolloré ayant anoncé, lors de sa dernière assemblée générale en mai 2012, vouloir planter à terme 20 000 ha de palmier à huile (12 000 ha d'ici 2015) et 10 000 ha d'hévéa dans la région [2].
Comme toujours, la création d'emplois a été l'argument pour vendre le projet aux autorités politiques. Ainsi, la SAC annonce que plus de 1000 personnes travaillent déjà pour le projet... dont seulement 90 de façon permanente. Les populations qui ont perdu leurs terres au profit des nouvelles plantations apprécieront la précarité de l'emploi...
Bolloré menace
Bien que directement affectés, les habitants de la zone concernée semblent n'avoir été ni informés ni consultés correctement avant le lancement du projet : l'étude d'impact social et environnemental n'a été rendue publique que deux mois après la signature du contrat. Constitués en association (Malen Land Owners Association, MALOA) ceux-ci ont adressé une liste de leurs griefs aux autorités locales : absence de consultation sérieuse ; manque de transparence en général et inquiétude concernant les conditions de réinstallation ; mauvaises conditions de travail ; corruption des élites locales ; pression sur les propriétaires terriens et certains chefs de villages pour qu'ils acceptent le projet.
Pour appuyer de façon plus musclée leurs revendications, les villageois tentèrent en octobre 2011 de bloquer les travaux sur la plantation. 40 personnes furent interpellées. Au final, 15 ont été inculpées de tapage, conspiration, menaces et libérés sous caution après une âpre bataille judiciaire.
Si Bolloré peut prétendre que cette réponse judiciaire lui est étrangère et relève des seules autorités publiques, les populations, qui subissent les effets de la collusion entre leurs élites corrompues et la filiale de Socfinaf, perçoivent clairement cette instrumentalisation de leur administration judiciaire comme le résultat d'une stratégie d'intimidation du groupe Bolloré.
Face à la gravité de la situation, l'ONG américaine de solidarité internationale The Oakland Institute, en lien avec des ONG locales (Green Scenery et le Sierra Leone Network on the Right to Food tout particulièrement), a publié en avril 2012 un rapport édifiant afin d'alerter l'opinion publique internationale et faire pression sur Socfinaf.
Comme à son habitude, Bolloré a publié une virulente réponse, et menace de poursuivre The Oakland Institute en justice pour diffamation.