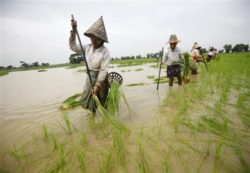 Farmers plant rice seedlings in a paddy field on the outskirts of Yangon 09/08/2012 REUTERS/Soe Zeya Tun
TrustLaw | Thu, 30 Aug 2012

Myanmar farmers lose their grip on land
BANGKOK (TrustLaw) - Thein Zaw has been a rice farmer in the Irrawaddy River delta of Myanmar all his life. This year, he did something he hadn't done before: he sold half of his seven-acre farm to a neighbour with deeper pockets because he could no longer afford to cultivate it.
He's not alone in his struggle.
In the next village in Myanmar's rice bowl, farmers were also considering something new: planting only the rainy season harvest, which needs less investment than a summer harvest. It would keep their debt burden down.
"If we keep planting both summer and rainy season harvests, we may lose our land," one farmer told TrustLaw.
A crippling lack of credit and infrastructure, a strong currency that has pushed up the cost of inputs such as fertilisers but reduced the revenue from rice sales, and natural disasters such as drought and floods have locked both rice and pulse farmers into a vicious cycle of debt.
Despite political and economic reforms in the past year that have made headlines around the world and excited foreign investors, life remains incredibly hard for ordinary Burmese in this agriculture-dependent country. Farmers who still own land are reducing the acreage while many youths have left the sector altogether for steadier, better-paid jobs in urban areas or neighbouring countries.
Threatening to worsen the rural crisis are two new land bills supposedly designed to alleviate it: the Farmland Law and the Vacant, Fallow and Virgin Lands Management Law. Passed in March, they provide little protection and could make more farmers landless, despite the government's focus on agriculture to reduce poverty, say activists and experts.
"There are already many land grab problems now. If the laws are enacted there could be more such acquisition and on a large scale. A lot of the farmers could lose their land and livelihood," said Shwe Thein, chairman of the Land Core Group, a network of local and international non-governmental organisations working on agriculture issues in Myanmar.
Win Myo Thu, managing director of ECODEV, a local NGO, sees the laws as "helping the cronies," businessmen who got rich on their cosy links with the former junta. "Businesses would be the winners and the farmers would be losers," he said.
EXPLOSIVE ISSUE
Land is a politically and economically sensitive issue in a country where 70 percent of the country's 60 million population depends on agriculture. The sector accounts for 43 percent of the economy and farming is the only livelihood for millions of households in Myanmar. All land is owned by the government but farmers are given land use or tillage rights.
Myanmar has an area as large as England and France combined and a history of rural turbulence. The domination of Myanmar's banks and farm lending by ethnic Indians called Chettiars during British colonial times led to widespread rebellion in the 1930s. The rural unrest effectively brought "British rule in Burma to an end," says Sean Turnell, an expert on Myanmar at Australia's Macquarie University, calling the country by its former name.
"It's an explosive issue. That's why I reckon (the government) would neglect this at their peril," he added.
Already, there are tens of thousands of farmers who have lost their precious source of income due to the policies of past governments. Protests are taking place across the country almost every day.
During the past 50 years of iron-fisted military rule, there have been numerous land acquisitions, dubbed land grabs by the media, for infrastructure, development or large-scale agricultural projects. Some farmers have become tenants on their own land. Inadequately compensated, if at all, they end up having to do odd jobs, said Wyne, a film director who has been documenting the protests since May.
In June, Wyne and his crew were detained by police at the hilltop town of Pyin Oo Lwin for filming a discussion between farmers and the authorities.
"They took our films and told us to sign a piece of paper saying we would no longer film this kind of thing. They also said if we film again, they could charge us with obstructing officials and jail us for 10 years," said the director who made a name with a short satire about censorship in Myanmar called "Ban That Scene".
"We saw with our own eyes their threatening behaviour," he said.
LITTLE PROTECTION UNDER NEW LAWS
Under the new Farmland Law, farmers can transfer, mortgage, or offer in lieu of loan repayments their holdings. These previously prohibited actions help farmers raise much-needed credit.
But many, including ruling lawmakers, say the new legislation, drafted with no open consultation, needs amending to provide flexibility on crops raised and mortgage types. It also lacks checks and balances, since disputes must be settled by government-created farm management bodies, not in the courts.
"Far from reducing the prospects of land grabbing, the Farmland Law opens the door to confiscation of agricultural land on any pretext associated with a state project or the 'national interest'," a recent report by the Asian Legal Resource Centre said. It warned of a land grab epidemic in Myanmar and added people who refuse to move risk prosecution and jail.
Win Myo Thu said the new law also opens the door for big companies to sue farmers who fall behind on repaying loans on equipment and land. Small farms are already being swallowed up by large agribusinesses. By 2010, nearly 1.75 million acres (700,000 hectares) had been granted to 216 private businesses for commercial farming, say activists.
Srinavasa Popuri, head of the United Nations' human settlement agency UNHABITAT in Myanmar said the present laws, despite their weaknesses, are much better than the drafts and the government is aware of the concerns.
The real danger, he says, is Burmese and foreign investors buying hectares of land for speculation.
PARLIAMENT IN ACTION
Many in power realise that land could be an issue in the 2015 general election. Members of parliament routinely raise the issue of farmers' welfare or land confiscation on behalf of their constituents. Last month, the parliament ignored the Ministry of Agriculture and voted by a wide margin to establish a committee to investigate land disputes.
The deputy minister had argued that land claims predating the reformist Thein Sein government, which came to power in March 2011, should not be assessed as they fall under the laws of the old military regime.
Aung Thein Linn, a senior member of the ruling Union Solidarity and Development Party, admitted in June that both laws contain "mistakes, weaknesses and (are) incomplete" and promised amendments.
Activists are unconvinced.
"Everybody knows the lands have been confiscated unjustly. They draft their own laws, do whatever they want and then those who confiscated the lands are now members of parliament," said Wyne.
Zaykabar, a construction firm owned by upper house lawmaker Khin Shwe, filed defamation charges in July against a politician assisting farmers embroiled in a land ownership dispute with the company. Farmers are also protesting against Yuzana, a conglomerate owned by lower house MP Htay Myint.
As Myanmar develops, it risks thoughtless infrastructure projects and economic planning that will only increase landlessness, said Win Myo Thu from ECODEV. "You can keep talking about economic development but people at the grassroots level would just get poorer," he said.