Manila Bulletin | 25 August 2012

By MELODY M. AGUIBA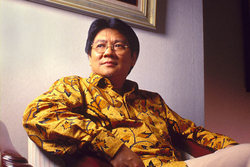 Indonesian billionaire Anthoni Salim holds a 44% controlling stake in Hong Kong-based First Pacific, which owns Indonesia's largest food and plantation company, Indofood. The tie-up with SL Agritech is its first foray into agriculture in teh Philippines.
MANILA, Philippines — A 1,000 hectare hybrid rice plantation will be established by a tie-up of Metro Pacific Investment Corp. (MPIC) and SL Agritech Corp. (SLAC) in a long-term aim to help Philippines achieve self- sufficiency in the rice sector.
The MPIC-SLAC partnership is now identifying its initial target area through state-run Philippine Agribusiness Development Commercial Corp. (PADCC).
"SL Agritech will provide the technology, the
hybrid rice
variety seeds, together with the technical assistance," SLAC Chairman Henry Lim Bon Liong said in a press briefing. "It will be a very good tie-up with Metro Pacific's financial muscle and SL Agritech's technology. We'll go to the next step of firming our relationship."
A preliminary investment of $10 million (Php 420 million) is eyed by MPIC in a sector where its parent firm First Pacific Group is not really new in.
"When we met with MVP (MPIC Chairman Manuel V. Pangilinan), he said they've been in agriculture with 1.5 million hectares in Indonesia planted to palm oil and rubber. So of course they won't stop at 1,000 hectares (in the Philippines)," said Lim.
The tie-up may pave the way to MPIC's first investment in agriculture as MPC eyes other plantation-type crops like banana, pineapple, and rubber.
But rice alone has a big market with its Php 450 billion value. The country is still importing 400,000 to 500,000 metric tons (MT) of rice this year.
"If you just get 10 percent of that, that's Php 45 billion," said Lim.
The partnership can even come up with a more globally-known rice brand that is Philippine-made, Lim said, much as how Thailand has given prominence to its fancy rice—jasmine rice.
Potential areas in Luzon, according to SLAC Hybrid Rice Specialist Dr. Frisco M.Malabanan, are Palawan and Occidental Mindoro; in Visayas - Iloilo and Negros Occidental; and in Mindanao--Zamboanga Sibugay, Davao del Sur, Compostela Valley, North Cotabato, and Sultan Kudarat.
Malabanan said MPIC has already tapped a consultant, the Mandala Devt. Corp., to study its agriculture investments.
"They really want to start with a big area at once, at 2,000 hectares. But we told them it's hard to find a big area right away, so we're starting with just 1,000."
Planting will start as soon as the area will have been identified by PADCC.
The initial investment in the hybrid rice program will go to infrastructure – irrigation, farm to market roads, and post harvest facilities. The needed investment will depend on the condition of the land - whether there is already an existing infrastructure.
Previous government estimates placed cost for irrigation alone at between R400,000 to R600,000 and which may go up now to Php 1 million per hectare.
Lim said the partnership will also involve coordination with local government units (LGU) which can aid farmers through financing or some type of subsidy for hybrid rice.
However, in the absence of LGUs' financial support, an already existing model in one LGU, Bohol, exists. In this business model, coordination is being made between farmers and traders-millers. The traders finance inputs of farmers - seeds, fertilizer- and other assistance like insurance.
Traders who are at the same time mill-owners are also the buyers of the produce and are bound to pay farmers a premium price for the high-quality hybrid rice grains. At least a P1 per kilo premium on top of market price (P17 per kilo) is paid to farmers at the contracted price of P18 per kilo.
Hybrid rice has the potential to raise the country's sufficiency level as progressive farmers' yield from it does not drop below 10 MT per hectare. This is about three times the three to four MT per hectare national yield average.