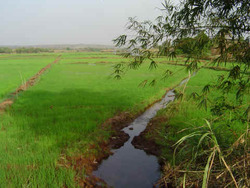 Agrimoney | 9 August 2012
Africa farm firm acquires 220,000-hectare landbank
Farm Lands of Africa has, after two years, accelerated its development into an agricultural producer by
buying
a rice-to-eucalyptus group in the Republic of Guinea with a landbank of 220,000 hectares, an area nearly the size of Luxembourg.
Farm Lands of Africa said it would be able, after the purchase of Buddhavarapu Farms, to "make a real difference to the food security of Guinea", a West African country with a population of some 10m, where corruption and political instability have deterred long-term investment in agriculture.
Indeed, with annual economic output of $1,100 per capita, the country rates as one of the world's poorest, ranked 210 out of 226 countries in the CIA's World Factbook.
The group said that it, and Buddhavarapu Farms, "share a commitment to agriculture against the backdrop of the renaissance of the newly democratic Guinea", where a military junta in 2010 gave way to an administration headed by an elected president, Alpha Condé.
Mr Condé a year ago put down an attempted coup.
West African has - despite a difficult political history also evident in fresh violence in Ivory Coast - become an increasing focus for agricultural groups seeking land for plantation crops, for which fresh sites in South East Asian countries such as Malaysia are becoming scarce.
Rice trials
While Farm Lands of Africa has pursued a model of mechanised farming, and Buddhavarapu Farms championed "traditional human labour", both
groups "pursue the efficiencies of modern seed varieties and fertilizer".
The deal
will see the shareholders in Buddhavarapu Farms take a 66.7% stake in the combined group.
SN Kumar Buddhavarapu, the chairman and managing director of Buddhavarapu Farms, will join the Farm Lands of Africa board, on which remain chief executive Mark Keegan, who cut his teeth turning Argentine pasture in soybean land, and chief financial officer Michael Barton.
Mr Kumar, whose experience extends from telecoms to distilling, has run Buddhavarapu Farms with a team assembled from the major Indian rice-producing state of Andhra Pradesh.
Indeed, the business is trialling eight varieties of rice imported from India for trial on coastal land in Guinea, initially on test beds of 400 hectares.
Buddhavarapu Farms is also acquiring crop rights for a Guinea oil palm plantation, and is establishing a eucalyptus operation.
No revenues yet
Farm Lands of Africa has yet to report any revenues since being established two years ago, and reported a loss of $117,993 in the April-to-June quarter.
However, the group - which achieved a valuation of $45m at its listing last year on the OTC Bulletin Board in the US - has plans to develop 8,800 hectares of land in Guinea for growing corn and soybeans, with the aim of taking on the lease from the government of a 94,000-hectare plot.
The group has also pledged to survey and map 1.5m hectares of "underutilised" land in the country for potential disposal, under which Farm Lands of Africa will have exclusive marketing rights and net 15% of proceeds.