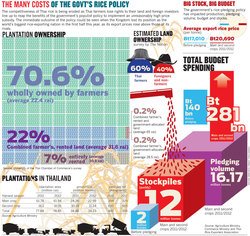 THE NATION August 7, 2012

Rice policy drives land claw-back : Special Survey
The Thai rice industry is not just being hit by the government's price-pledging policy, but also allegedly by foreign investors believed to be buying up land from farmers via nominees. An investigation by The Nation, however, has found little support for such charges in the prime rice-growing Central region.
Still, farmers, millers and exporters all say the government is losing control of the agricultural sector because farmers are being lured into selling their land to rich people, who are now growing rice to enjoy higher returns.

For the first time in half a century, Thailand was ousted from its rank as the world's top rice exporter by India, which sold 3.61 million tonnes compared with the Kingdom's 3.6 million tonnes in the first half of this year. This 45-per-cent slump is being blamed on the fact that the price of Thai rice is no longer competitive.

The Commerce Ministry recently came out in defence of its policy, saying the shortfall was only short-term and the government was targeting rice exports of 9 million to 9.5 million tonnes this year.

However, exporters are not that optimistic, saying they would be lucky to sell 7 million tonnes this year.

A survey conducted in the Central region by The Nation showed that most of the farmland was owned by Thai landlords who leased plots of up to 10 rai (1.6 hectares) to small-scale farmers. Yet over the past few years, those in the rice business have been claiming that foreigners, particularly investors from the Middle East, have been buying up farmland via nominees.

Reportedly, more foreigners have been coming in since the government launched its price-pledging policy, in which the subsidy offered is much higher than the market price. Some have even been alleging that investors from Singapore have bought up land to serve the island state's consumption. However, The Nation was not able to find any concrete information backing this allegation.

Still, farmers, millers and exporters all say the government is losing control of the farming sector because farmers are being lured into selling their land to rich people, who are now growing rice to enjoy higher returns.

As per The Nation survey, Thailand has 60 million rai devoted to rice farming and 60 per cent of this is owned by farmers, while the rest is handled by landlords and businesspeople, and some foreigners.

A similar survey conducted by the University of the Thai Chamber of Commerce showed that 70.6 per cent of Thai farmers grew crops on their own land, with each farm averaging 22.4 rai. It also found that farmers were renting additional land to earn extra from the government's pledging policy. According to the UTCC survey, 7 per cent of the farmers did not own land but rented about 30.9 rai each to grow rice.

Vichai Poonpiriyasup, senior vice president of the CP Group's Charoen Pokphand Seeds, said that on average the group sold enough seeds to cover up to 300,000 rai, adding that about 30-40 per cent of the farmers who bought the seeds worked on rented land.

"It is normal for Thai farmers to rent land to produce a larger harvest, because the yield from their small farms would not cover their costs for the rest of the year," Vichai said. "Some farmers even rent their land to those who have a more efficient farming method."

He added that he had seen no signs of foreign investors. However, he acknowledged that some landlords had taken back their land and were growing rice themselves to take advantage of the high subsidy. If the government wanted foreigners to invest in the sector, it should set up farming zones and restrict them to large-scale farming.

Vichai said they should also |be encouraged to focus on agricultural-industrial crops instead of rice alone. He said this would help the Thai rice industry become sustainable and strengthen the country's competitiveness in the long run.

Meanwhile, Department of Special Investigation chief Tarit Pengdith said his department had not found any instances of foreigners owning farms or growing rice via nominees. Farming is forbidden to foreigners under the Foreign Business Act.

He added that the DSI had investigated farmland ownership in Angthong, Ayutthaya and Suphan Buri and would take its investigation to the Central region and the North, where many foreigners are rumoured to be landowners.

During the previous Democrat-led government, the DSI reported that up to 10,000 rai of farmland was primarily owned by foreigners with Thai spouses.

Separately, the Business Development Department reported that the number of new rice mills had risen from 23 last year to 30 in the first five months of this year. However, the value of new businesses registered in the rice sector had dropped from Bt1.2 billion during the same period last year to Bt592.7 million. The Internal Trade Department reported that the number of rice exporting companies had increased from 374 in April this year to 378 firms in May, while the number of rice mills rose from 1,540 in April to 1,542 in May.