The Gazette | 3 August 2012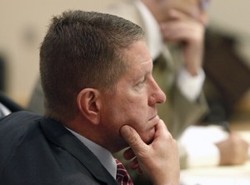 Board of Regents member Bruce Rastetter at Maucker Union on the University of Northern Iowa campus Thursday, Aug. 4, 2011, in Cedar Falls, Iowa. (MATTHEW PUTNEY / Courier Photo Editor)

Protesters outside the state Board of Regents meeting Friday held signs calling for the firing of Regent Bruce Rastetter, and later came into the meeting and disrupted the beginning of the agenda.
The group of about 40 protesters from Iowa Citizens for Community Improvement say Rastetter has violated the board's code of conduct policy, and they want the regents to address the issue. Group members say they requested a hearing before the board at Friday's meeting, but that request was denied.
"It would be unfortunate for the Board of Regents to create a firewall for him," said protester Cherie Mortice of Des Moines. "They need to hold him accountable."
The protesters later came inside and disrupted the beginning of the meeting, with shouting and boos. Board President Craig Lang stopped the meeting for a few minutes, while a University of Northern Iowa Public Safety official talked to the protesters and told them to be quiet or they would be removed.
"It's time for you to be quiet," Lang said, asking the group to show respect for the meeting. "We will recess for five minutes until we regain order."
Protesters shouted "who are you protecting Mr. Lang?," "when are you going to deal with the ethics complaints?" and "you're a public board!"
UNI police escorted several protesters out as they shouted and disrupted the meeting, including two group members who walked up to the regents table and sat down, shouting questions at board members, during the meeting.
It gives the board and the state a black eye if the regents are not willing to hold a member accountable to board policies, said protester Ross Grooters of Pleasant Hill. The board has its own ethics policy separate from state law, which is what the protesters want the regents to act upon.
The watchdog group also filed an ethics complaint against Rastetter to the Iowa Ethics and Campaign Disclosure Board. The group claims Rastetter, of Alden, abused his position as a regent in pursuing a partnership between Iowa State University and his agribusiness corporation, AgriSol Energy. Rastetter participated in discussions with the university about working with AgriSol to develop a commercial farming operation in Tanzania, a project critics call a land grab.
Rastetter Spokesman Joe Murphy said Iowa CCI continues to use bully tactics and a campaign of misinformation and intimidation to mislead Iowans on the issue. The group's behavior is destructive and not representative of Iowa values, Murphy said in a statement Friday. He noted that Rastetter is a native Iowan dedicated to agriculture, education and philanthropy.
"Bruce is passionate about lifting people out of hunger and poverty, which is the goal of the AgriSol project in Tanzania," Murphy said.
The Iowa Ethics and Campaign Disclosure Board is scheduled to meet this month to rule on the complaint.
Iowa CCI shows a disregard for that process in their confrontational protests, Murphy said.
The lease signed in Tanzania is for about 13,750 hectares of land and involves no land containing refugees, Murphy said. He noted AgriSol Energy began talks with ISU several years before Rastetter was appointed as a regent. ISU is no longer involved in the project, but it is involved in many projects of this nature and does similar work in Uganda, Murphy said.
Iowa CCI argues Rastetter tried to leverage ISU's international reputation for a "massive corporate land grab" in Africa that could displace tens of thousands of refugees while making Rastetter and his investment partners millions of dollars.