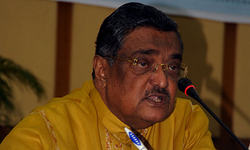 Expatriates' Welfare and Overseas Employment Minister Khandker Mosharraf Hossain led the delegation to Sudan
Daily Star | Friday, August 3, 2012
Bangladesh to lease Sudanese farmland
Staff Correspondent
Bangladesh yesterday signed a memorandum of understanding (MoU) with South Sudan to take a 10-year lease on Sudanese farmland to grow crops aimed at ensuring food security of both the countries.
Bangladesh and Sudan will jointly produce rice, lentil, oil, cotton and other crops on the leased land and share the produces between the two countries, said a press release.
The MoU was signed between Bangladesh's agriculture ministry and the newly independent Sudan's agriculture and forest ministry when a Bangladeshi delegation visited the African country.
Expatriates' Welfare and Overseas Employment Minister Khandker Mosharraf Hossain led the delegation to the east-central African country on July 28 and they are scheduled to return home on August 5.
The move of leasing land abroad is one of Bangladesh's various efforts to improve food production in the wake of rising population and decreasing farmland at home.
Under the MoU signed, Bangladesh and Sudan will exchange training, technologies and expertise for increased productivity. On completion of ten years, it will extend for ten more years automatically, the release said.
The delegation also held talks with South Sudan's president, ministers and officials concerned.
Earlier, two Bangladeshi companies have leased 40,000 hectares of farmland in Uganda and Tanzania.
Another Bangladesh delegation earlier visited various African countries to take farmland but no concrete outcome is known of their visit.