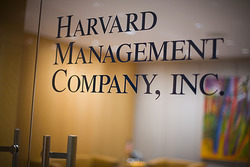 Foundation & Endowment Intelligence | Jul 23, 2012
Harvard bullish on natural resources
Dawn Lim
Natural resources is Harvard Management Company's "favorite area" in the alternative assets market, CEO Jane Mendillo said at a recent investing conference.
The chief of Harvard University's $32 billion endowment said the fund has been eyeing timberland, farmland, infrastructure, energy and water-related investments in anticipation of growing global demand. She spoke at a panel at CNBC/Institutional Investor's Delivering Alpha conference on July 18.
Natural resources is an inefficient market for investors and holds out opportunities for those with the expertise to manage such assets well, Mendillo added. "We feel we might have an advantage as an early entrance into the asset class," she said, but cautioned that, "the area has also gotten hot as other investors have gotten keen on the idea."
Natural resources represented approximately 10%—or $320 million—of Harvard's endowment last year, and mostly comprised timberland, according an investment memo by Mendillo published September 2011. The investment return on the natural resources portfolio has been 12.8% annually for the ten years ended July 2011.
The fund has "swung back a little towards public markets from alternatives," Mendillo said at the conference. Harvard's endowment had a 36% allocation target to stocks in 2012, with the public equity portfolio equally weighted between domestic, foreign and emerging equity.
In global opportunities, the fund is eyeing distressed credit, private equity and real estate, she said. "We are not piling into Europe," she added, as the fund believes that the Euro zone situation would take time to resolve.
The fund's 2012 investment policy targeted allocations of: 12% to domestic equity, 12% to foreign equity, 12% to emerging market equity, 12% in private equity, 16% to absolute return, 14% to commodities, 9% to real estate, 4% to domestic bonds, 3% to foreign bonds, 2% to high-yield and 4% to inflation-indexed bonds.