Vanguard | 24 July 2012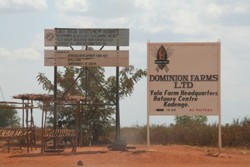 A sign for Dominion Farms' operations in Kenya. The US company says it will start planting rice in December 2012 on its 30,000 ha rice farm in Taraba, Nigeria and has trained 50 commercial farmers in Kenya who will soon start their own commercial rice operations in Nigeria.

Abuja - ADCO, a U.S. manufacturing firm, plans to invest 60 million dollars in Nigeria's agricultural sector, the Minister of Agriculture and Rural Development, Dr Akinwumi Adesina, said on Monday in Abuja.
Adesina said that ADCO's partnership with the Federal Government, would lead to the production of 300,000 tractors with a view to eradicating rudimentary farming.
He said that this was part of the outcome of a partnership meeting in Abuja with delegates from USAID and the U.S. Bureau for food security (BFS).
The minister also said that the outcome of the meeting showed that the relationship between the U.S. Government and the Federal Government was very strong.
"We are committed to deepening that relationship and grow the economies of the two countries to create jobs and also ensure mutual food security.
"As a government, we focus on inclusive growth, balanced growth and basically meeting the needs of our people in the rural areas.
"To realise this, the Federal Government introduced the Growth Enhancement Support (GES) scheme under the Agricultural Transformation Agenda (ATA).
"The goal of the ATA is to shape agriculture out of the realm of development area and be structured as a business on its own. "
Adesina said that the ATA was aimed at creating employment for youths as it is estimated that roughly 4 .5 million youths were entering the labour market every year.
He further said that farmers lost about 60 per cent of their produce every year due to poor farm level storage, the lack of processing and value addition technologies.
"To address this challenge, we have decided to focus heavily on processing of farm products. We have started processing rice and the rice policy is to be self-sufficient in rice production by 2015. "
"Right now, Nigeria has been able to produce rice that beats any imported rice in quality.
"To move this forward, the Federal Government is investing in the acquisition of a 100 large-scale integrated rice mills that are going to be producing about 2 .1 million tonnes of local rice."
Adesina also disclosed that an American investor, Dominion farms, was working on 30,000 hectares of rice farm in Taraba.
He said that the owner of Dominion Farms had trained 50 young commercial farmers in Kenya on commercial rice farming who would soon start their own commercial rice operation in Nigeria, while Dominion Farms would start planting on its rice farm by December 2012.
The minister identified other crops being processed as cassava, sorghum, cocoa and cotton.
Earlier, Mr Paul Weisenfeld, the Assistant Administrator, BFS, said that he meeting would enable the U.S. to strengthen partnership with Nigeria with a view to achieving food security.
According to him, the U.S. sees Nigeria as a priority country in President Barrack Obama's global food initiative programme. (NAN)