The Nation | 24 July 2012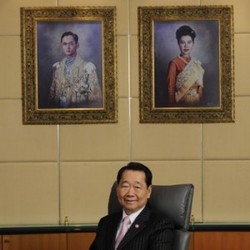 Dhanin Chearavanont, Chairman of Charoen Pokphand, is Thailand's richest person, with a net worth of $7.4 billion.
Petchanet Pratruangkrai and Achara Pongvutitham
Leading Thai companies are ready to outlay more than 28.5 billion baht (US$898 million) setting up businesses in Myanmar following a meeting with President Thein Sein in Bangkok yesterday, amid expectations that a
Charoen Pokphand Group (CP), Thailand's biggest agro-industrial conglomerate, is set to invest $550 million or 16.53 billion baht in Myanmar within the next three years. CP plans to develop maize seed and farms, rice farms and rice mills, plus livestock processing plants. Its investment plan will kick off this year and run till 2015.
After meeting with Thein Sein yesterday, CP vice chairman Adirek Sripratak said the group would invest more in the country after successfully setting up both feed plants and farms since 1996. So far, its total investment in the country is about $150 million.
"Myanmar's economy is growing since the government has opened the door for foreign investors. We believe that it will create business opportunities for us," Adirek said.
Siam Cement Group (SCG), the giant construction-materials manufacturer, will soon set up a 10-billion baht ($314 million) cement production plant in Myanmar to support fast infrastructure development and market liberalisation ahead of the Asean Economic Community.
SCG president and chief executive officer Kan Trakulhoon joined a meeting between Thai and Myanmar business leaders in Bangkok yesterday. Kan said later he had discussed an investment plan with the Myanmar leader, so SCG was confident it could set up its cement plant soon.
SCG had asked the government for an investment licence two months ago. Myanmar would soon grant permission for the company, which he said, was ready to start investing immediately.
Kan said SCG was waiting for a clearer law on foreign investment, which the Myanmar government is amending in the parliament now.
The company conducted a study three years ago about establishing a cement plant in Myanmar. 10 billion baht would be invested to build a clinker manufacturing plant with a capacity of 5,000 tonnes a day, and produce about 1.7 million tonnes of cement a year. The plant would be set up in the country's southeast.
Kan said Myanmar would have high demand for cement to support construction and infrastructure development given its objective to boost its economy.
Having a plant in Myanmar would help promote sustainable business growth there and mutual benefit for both sides, as Myanmar was less likely to rely on imports.
SCG was also considering other businesses in Dawei Industrial Estate in the near future, Kan said.
Santi Villasakdanont, managing director to Saha Pathana Inter Holding Plc (Sahaphat), said the firm planned to spend about 2 billion baht ($62 million) to set up an industrial estate covering 1,000-1,500 rai of land in Yangon or a nearby province.(1 acre = 2.471 rai)
"The company is looking forward to a clearer investment law from Myanmar so that the firm will submit an investment [plan] to the Myanmar government," Santi said.
Sahaphat expected to take about three years setting up the industrial estate, which would facilitate not only its subsidiaries, but also other firms - both Thai and foreign.
Santi said Japanese companies had shown high interest in setting up plants in the proposed estate.
The company will also establish a garment manufacturing plant and a consumer goods factory in Yangon soon. Myanmar offered cheaper labour and there was strong demand for garments.
Santi, also chairman of the Thai-Myanmar Business Council, said Nay Pyi Taw wanted Thailand to help it boost its power production to support its economic growth. To date, the country has relied mainly on hydro-electricity, but Thein Sein said the country would focus more on gas. Myanmar would like PTT to help it supply gas to local people.
Isara Vongkulsolkit, chairman of Mitr Phol Sugar Group, said his firm was studying opportunities to grow sugar and set up a plant in central Myanmar. But, it wants to carefully consider logistical costs, environmental factors, and whether local people support the growth of a sugar industry in the country.
Isara said the firm would talk with Myanmar officials about help to promote sustainable farming.
Thanit Sorat, secretary-general to the council, said Thein Sein urged Thai investors to expand business in Myanmar and lead |foreign spending as many investors from western countries and Japan had moved rapidly to expand investment in the country. They urged Thai business people to invest in agriculture, food processing, energy development, banking, tourism, and other services. There were opportunities to expand business not only for large investors, but also small and medium-sized firms.
Permanent secretary at the Commerce Ministry, Yanyong Phuangrach, said Myanmar wanted Thailand to help develop its milling and rice farming.
He said Myanmar had high potential to become a big global rice supplier, as it had plenty of land and used to be the world's leading rice exporter. The country now exports only about 700,000 to one million tonnes of rice a year. But if the country could boost its production area and develop its milling, via close cooperation with Thailand, it would be able to export much more.